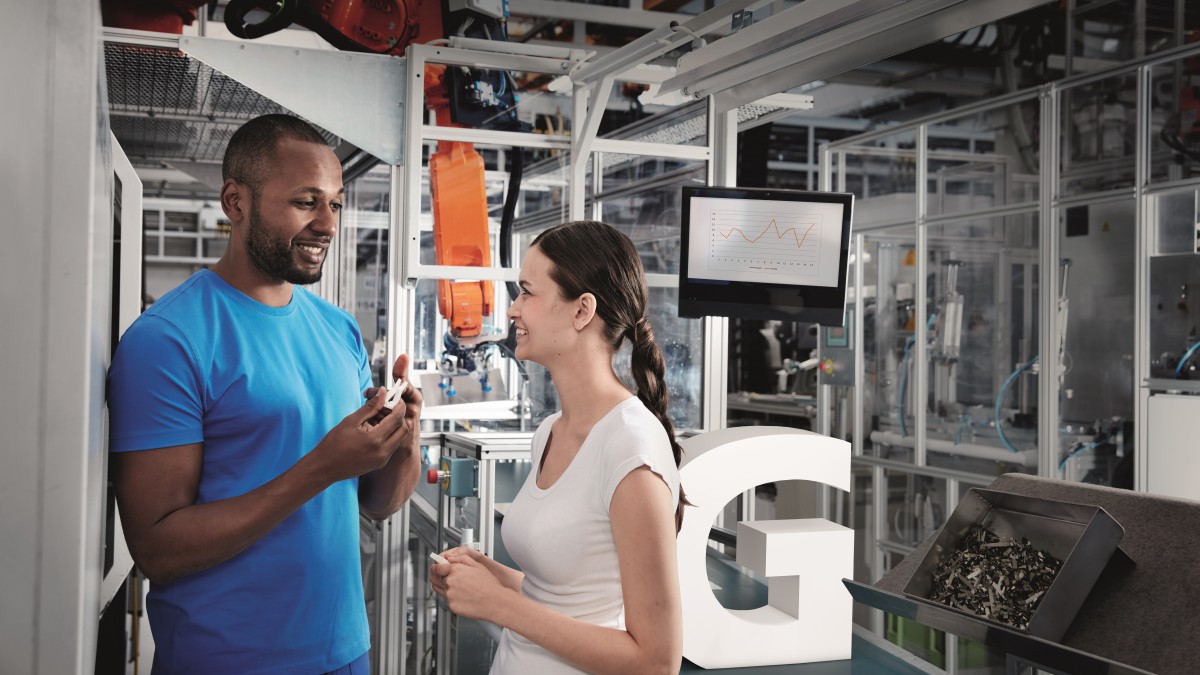 Career options
Prospects for specialists and managers
Geberit offers its budding specialists and managers excellent opportunities for development. We pursue a declared objective of filling at least half of all management positions internally, thus offering all employees excellent prospects.
Qualified and committed employees are essential for the future success of Geberit, which is why we put particular emphasis on the solid education and further training of all employees. Regular feedback and development meetings are an important aspect here. In everyday working life, the personal and professional development of each individual employee is encouraged in a variety of ways. This covers all areas of work, functions and age groups.
We support our employees in finding their own career path within the company. Recruitment, training courses and promotions depend on individual achievements, skills and potential regarding the requirements of the position in question.
As a company, we set store on promoting a culture that enables all employees to contribute their full potential to the company. We strive for diversity and promote equal opportunities irrespective of gender, ethnic origin, skin colour, age, religion, nationality or any other possible grounds for discrimination.
Education and training
Right from the word go, Geberit invests in the future of its employees in a variety of ways:
Introduction courses give new colleagues a wealth of information on the product range, plus the history and culture of the company.
Regular, systematic feedback meetings serve to promote the personal and professional development of each individual employee in a targeted way.
Potentials Management Programme for particularly talented employees with ambitious goals.
Diverse internal training courses, language courses and eLearning modules.
External training is also explored and actively supported.
Programs for promoting talent
As part of a two-stage Potentials Management Programme, talented individuals are supported along their path to middle or senior management. The programme includes topics such as strategy, digitalisation, the management of change processes, leadership skills and culture.
Working abroad
Geberit is active in many regions around the world. This also opens up new horizons for employees.
Short-term assignments abroad are par for the course at a global yet tightly networked company like Geberit. More and more employees are also taking advantage of the opportunity to gain vital experience abroad over an extended period as Geberit expats.
Operations Development Programme
The starting point for management talents
Would you like to prove your skills and build your career on the back of your strong personality? The European market leader for sanitary products is the right place for you to make the first step. Here, you build up valuable know-how about working at an efficient, lean and process-oriented organisation and play an active role from day one.
International development programme for engineers and technicians
To master our future challenges, we are looking for talented management prospects with an engineering or technical background. Just as important as your professional background is your personality and attitude.
Making an impact in real projects from day one
You start the program at a well-established Geberit site in Germany, Switzerland, Austria or Finland. An important aspect of the first onboarding phase is familiarisation with our corporate culture, processes and systems. This includes the Geberit Production System, which is based on lean principles. Once this is done, you will soon have the possibility of leading your first challenging project.
In the second phase, you will then head up another strategic project at a different production plant or logistics centre. You will apply the know-how you built up in the first phase directly, thereby helping the respective site to develop further.
Thanks to the close guidance of a senior management member, you will build up a valuable network within Geberit and be able to advance on both a professional and personal level.
The third phase of the programme – and the ultimate goal – is to take on a management position in one of our plants around the world, ideally in your home country.
Program design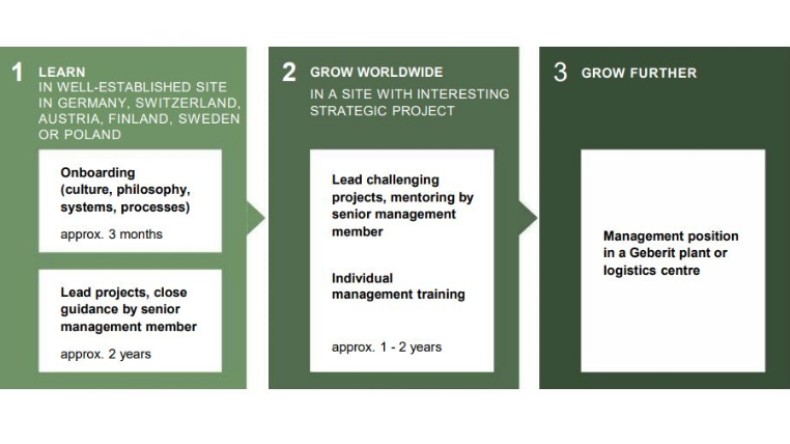 On-the-job and off-the-job training
The fostering of talents and personal development are both important to Geberit. All participants in the programme take part in the regular performance management process, in which continuous feedback and development meetings take place. In addition, we also offer off-the-job training tailored to individual needs and internal talent programmes for selected employees.
Application and schedule
In addition to the ability to travel, the right attitude and personality are key prerequisites for acceptance into the programme. Applicants who have already worked with Geberit as part of an internship or while writing their Bachelor or Master thesis are given preferential treatment.
The application process for the Operations Development Program 2023 is closed. The new application round for the Program 2024 starts in autumn 2023. After the local pre-selection, the selected individuals will be invited to an assessment in Switzerland in spring 2024. We are looking forward to your application.
Claudia Straub
Project Manager HR Development Corporate Human Resources Processes