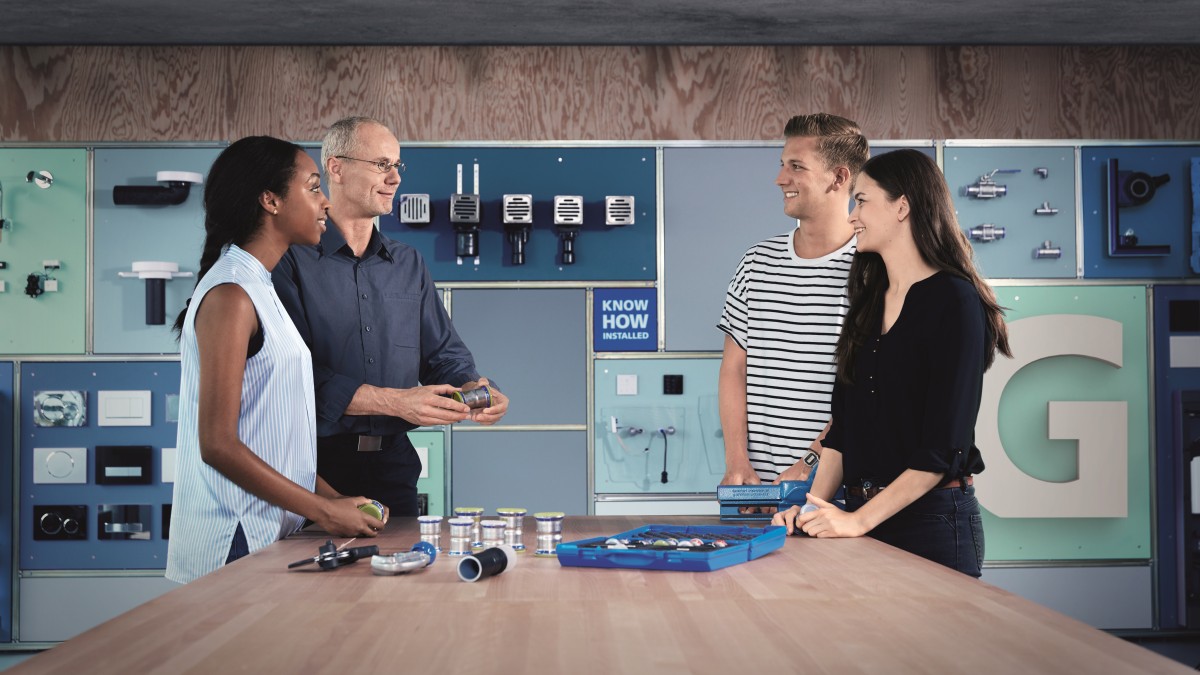 Who we are
Values we live by
The people who work for Geberit know all about our success factors and have clear goals, regardless of their position, responsibilities or where they work. The Geberit Compass  (593 KB) clearly illustrates what we do, what motivates us and how we work together.
Our behaviour is defined by trust and mutual respect. Open and honest communication determines how we act on a daily basis and how we deal with each other and our stakeholders. We have an extremely lean structure. Our style of management is based on our values and is both challenging and participative.
Please take some time to read through and get to know the Geberit Code of Conduct  (511 KB).
A range of tasks
Thanks to its high level of vertical integration, Geberit offers a variety of roles in a wide range of disciplines. From Development to Production, from Marketing to Sales, from Purchasing to Logistics and from Communication to Administration – the huge range of different professions at Geberit allows us to offer technology and design solutions of the highest quality from a single source through the entire value chain. Use your skills to become part of our success story in one of the following specialist areas: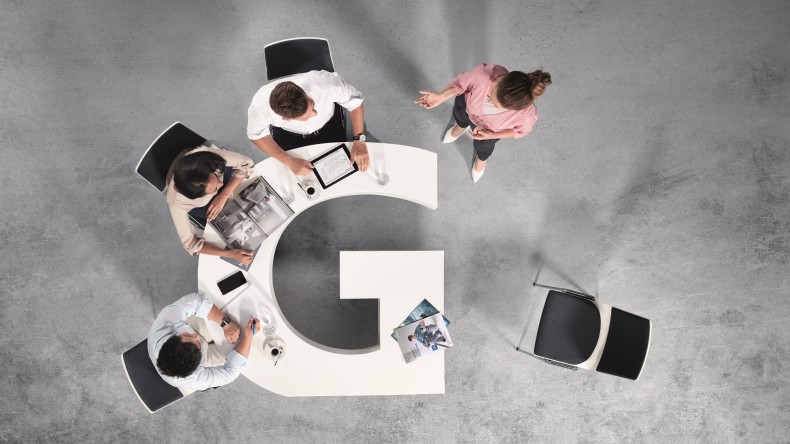 Research and Development
Our leading position in the sanitary industry is no accident. Scientists, engineers and specialists work day in, day out on expanding our product range and aligning it to our customers' changing needs. To do this, they have an infrastructure at their disposal that leaves nothing to be desired.
Finance and Controlling
The activities of a large number of individual companies have to be numerically tracked, evaluated and presented in detailed reports. This has the dual effect of fulfilling statutory and regulatory requirements while also providing the Group Executive Board with sound analyses that serve as a basis for their strategic decisions.
Purchasing
As a company with a broad product range, having a functioning category management system is of great importance to Geberit. Our networked lead buyers and strong local Purchasing teams ensure that the required raw materials, goods and services are systematically procured from certified sources.
Human Resources
Hiring the right employees and retaining them over the long term ensures the future success of our company. Human Resources supports employees in many ways, acts as a sparring partner for management and proactively supports change processes.
Information Technology
Thanks to innovative applications and systems, Geberit is always at the cutting edge. CAD/CAM, SAP, CRM, cloud computing – whatever applications and tools our business comes in contact with, we utilise the full range of new technologies.
Logistics
An excellent delivery performance is essential to the success of our company. In close coordination with the Production team, the Logistics department manages and monitors the logistics processes along the entire supply chain – from procurement, intralogistics and distribution logistics right through to transport management.
Administration
Anyone working in administration needs to know the field inside out. The administrative tasks that have to run smoothly to support the business processes are as diverse as one might expect at a company as globally oriented as Geberit.
Marketing and Communication
As the people pulling the strings at the interface between Product Development and Sales, the marketing professionals ensure a strong brand presence. Rock-solid work in the background is absolutely necessary here, be it in pricing or product data maintenance, to name just two areas. The demands are also diverse when it comes to corporate communications, with stakeholders such as shareholders, investors and the media needing to be informed according to their respective needs and regular contact maintained with business representatives.
Production
Responsible for a significant part of the company's added value, production never stops. The production technologies are continually redeveloped and optimised within our network of plants – always with the goal of ensuring that our products are made with the right quality, at the best possible cost and at the right time.
Quality
Quality is when the customer comes back – not the product. With this in mind, our quality experts do everything in their power to meet this great responsibility during their everyday work. Together with application engineering specialists, they are committed to maintaining these demanding standards and meeting the high expectations of the customer.
Sales
With an established local presence and backed up by a strong product range, our Sales teams are always at the heart of the action in the construction industry. Working closely with our diverse groups of customers – wholesalers, craftsmen, planning offices, architecture firms, end users and OEM partners – they are the key players when it comes to customer advice and support, as well as order processing.
Diverse prospects
Each individual has their own plans – and strategies on how to achieve them. Geberit supports its employees in finding the right role among the many available and pursuing the right career path within the company. Geberit has gained a foothold in various regions throughout the world over the years. This has allowed employees to also spend time working abroad – both in the short and long term. One thing is certain, working at Geberit really opens up new horizons.