Sustainability
Well established
Sustainability has been an integral part of Geberit's corporate strategy for decades, with the goal of using innovative sanitary products to continuously improve people's quality of life. To achieve this, we develop, manufacture and sell sanitary products and services taking ecological, social and economic aspects into account.
Highlights sustainability
Eco-efficiency on course
Geberit stands for a high level of environmental awareness. The company is committed to resource-saving, environmentally friendly production. These efforts are bearing fruit: In 2022, the absolute environmental impact of the Geberit Group decreased by 17.1%. The environmental impact in relation to currency-adjusted net sales (eco-efficiency) even decreased by 20.9%. As regards the long-term target, which is based on an average annual improvement of 5% per year, Geberit is therefore very well on course.
Since the integration of the energy-intensive ceramics production in 2015, eco-efficiency at Geberit has improved by 56.8%.
Top 1% again
EcoVadis awarded the Geberit Group the platinum rating for its sustainability management for the third time running in 2022. It is the highest possible rating awarded following the annual evaluation by EcoVadis. Geberit thus again finds itself in the top one per cent of companies – both across industries and countries – listed by EcoVadis.
EcoVadis is one of the world's largest providers of business sustainability ratings and has created a global network of over 100,000 companies in around 175 countries.
The top rating again shows both customers and suppliers that Geberit has a comprehensive, systematic sustainability management in place.
CO2 intensity substantially reduced
In 2022, the CO2 intensity (CO2 emissions in relation to currency-adjusted net sales) decreased by 21.9% compared to the previous year. In the same period, absolute CO2 emissions fell by 18.1% to 150,591 tonnes. Geberit has thus once again succeeded in clearly exceeding the reduction target of 5% per year. Since the acquisition of the energy-intensive ceramics production in 2015, the CO2 intensity has even dropped by 56.4%. This substantial decrease is the result of reductions in energy consumption, increased efficiency and the targeted sourcing of high-quality renewable energy sources.
A commitment to green electricity
In 2022, the share of electricity from renewable energy sources was increased by a further 27 GWh to 112 GWh. As of the end of 2022, over 70% of the electricity thus came from renewable energy sources and certified green production.
Together with saving energy, increasing efficiency and heat recovery, the systematic increase in the share of green electricity is pivotal in Geberit's CO2 strategy.

Saving water
Sparing, careful use of water as a valuable resource is one of Geberit's core areas of focus. Geberit consistently applies measures to reduce water consumption in production. Innovative Geberit sanitary products also help customers handle water sparingly.
In 2022, water consumption in production totalled 908,407 m3 (previous year 925,230 m3). In comparison with 2015, the year that saw the integration of the ceramics business, water consumption fell by 22.4%. In particular, reusing water in laboratories and the production process played a key role here. At around 80%, ceramic production accounts for the biggest share of water consumption. By 2024, the goal is to reduce water consumption in this area from 6.4 l/kg today to 5.6 l/kg.
On the road for good causes
In 2022, 14 Geberit employees travelled to Nepal on a volunteering assignment. In a remote village, they laid water supply lines, secured wells and built water tanks under expert supervision. In doing so, they helped to ensure better access to clean drinking water for the villagers.
Twelve Geberit apprentices from Germany, Austria and Switzerland also travelled to Istanbul (TR) as part of the social project, where they renovated sanitary rooms at a primary school for over 1,000 children. During their assignments, the young apprentices not only gain new intercultural, linguistic, professional and social competencies, but also often act as ambassadors for the company and its social commitment.
180 eco-design products
Since 2007, Geberit has consistently used the eco-design principle for the development of its own products. All environmental aspects are examined and the circular economy taken into account, from the selection of raw materials right through to disposal. Every new product should be better than its predecessor from an ecological perspective. The energy efficiency and the water consumption of the products in the product use phase are continuously improved.
Since its introduction, a total of 180 new products have been developed according to the eco-design principle.
Transparent information
For many years, Geberit has been creating product life cycle assessments and externally inspected environmental product declarations (EPDs) in accordance with the European standard EN 15804. EPDs present relevant, comparable and verified information about a product's environmental impact in a transparent manner. In 2022, one new EPD for the Duofix WC element was added to the 14 existing declarations. This means that products with an EPD already account for around 30% of Group sales.
Plastic recycled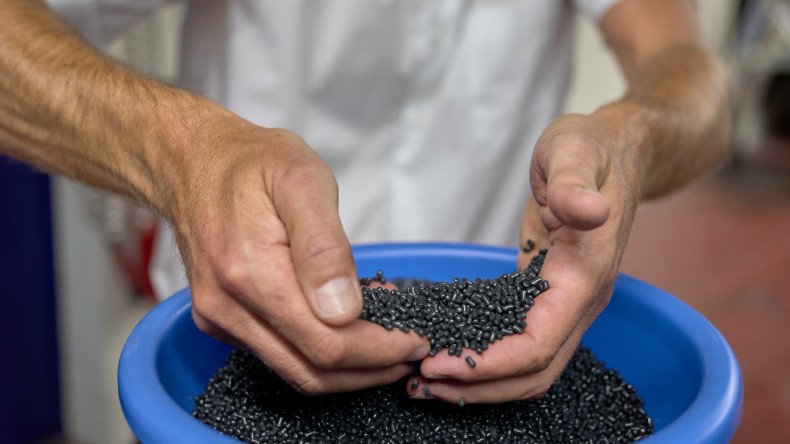 In production, the goal is to close internal material cycles, and to minimise waste and recycle it where appropriate. For example, almost 100% of plastic waste is recycled internally and reused, which corresponded to around 9,100 tonnes of plastic in 2022.
Inclusive workplaces
Geberit is committed to equal opportunities and creating inclusive workplaces.
At various Geberit sites in Europe, such as Germany, Austria, Poland, France and Switzerland, for example, simple assembly and packaging work is regularly awarded to workshops for people with disabilities. In 2022, this work amounted to around CHF 10 million and gave around 550 people meaningful work.
Sustainability strategy
For measurable objectives
An initial environmental strategy was tabled and specific measures implemented at Geberit as far back as 1990. Since then, this has gradually developed into a comprehensive sustainability strategy that is now closely linked to the Sustainable Development Goals (SDG) of the United Nations.
The sustainability strategy includes both ongoing and future projects and contains clear responsibilities with measurable objectives. It promotes the well-being of employees, society, the environment and the economy alike, and focuses on twelve sustainability modules. Among these are occupational health and safety, social responsibility, conservation of resources, energy and CO2 reduction, eco-design and green procurement.
The Geberit sustainability strategy is based on three dimensions:
The social dimension (People)
The ecological dimension (Planet)
The economic dimension (Profit)
The three dimensions of sustainability are based on the UN 2030 Agenda for Sustainable Development and their 17 Sustainable Development Goals. As a leading international company in the sanitary industry, we focus on the following sustainability goals:
Goal 6: Ensure availability and sustainable management of water and sanitation for all
Goal 8: Promote sustainable economic growth, employment and decent work for all
Goal 9: Build resilient infrastructure, promote sustainable industrialisation and foster innovation
Goal 11: Make cities and communities safe, resilient and sustainable
Geberit also acts in accordance with international and national climate protection agreements and has been a member of the UN Global Compact since 2008.
People
The social dimension
People take centre stage at Geberit and are the reason why we enjoy long-term success. This is why we are always there to support our employees individually – at all levels and in all phases of their career. We ensure that they are able to develop their capabilities and personalities in accordance with our corporate culture.
However, sustainability is also a promise to society. Geberit fulfils its responsibilities here with absolute conviction, as demonstrated by long-term partnerships with social institutions, participation in development projects and through a global commitment to the human right to clean drinking water and basic sanitation.
In terms of People, our sustainability strategy focuses on four sustainability modules in particular:
Employer responsibility
Geberit positions itself as an attractive employer and is committed to offering jobs of the highest quality. We also support disadvantaged employees and apprentices.

Find out more
Occupational health and safety
Geberit operates safe production plants and logistics sites and promotes a health and safety culture at a high level.
Compliance and integrity
Geberit complies with all laws, guidelines, norms and standards. We check the effectiveness of internal monitoring systems and guidelines and implement appropriate measures in the event of misconduct.
Social responsibility
Geberit fulfils social responsibilities in society within the scope of the UN Sustainable Development Goals. With our social commitments, we make a sustainable contribution to improving quality of life – for example, by helping people in developing regions to receive better basic sanitary services.
Planet
The ecological dimension
Environmental friendliness, resource efficiency, occupational safety and innovative thinking are all key prerequisites for sustainable production. This is why we constantly optimise our production processes while consistently reducing our environmental impact.
Global standards help us to systematically tackle areas with potential for improvement and achieve our goals. All production sites and our logistics centre work in accordance with ISO 9001, ISO 14001 and ISO 45001.
Several plants also work in line with the ISO 50001 standard for energy management. In terms of Planet, our sustainability strategy focuses on three sustainability modules in particular:
Resource conservation
Geberit conserves natural resources and practises the circular economy, both in production as well as with its products.
Energy and CO2 reduction
Geberit actively contributes to climate change mitigation and consistently reduces its energy consumption and CO2 emissions.
Intelligent water management Geberit supports the economical and careful use of water along the entire value chain.
In production, the goal is to close internal material cycles, and to minimise waste and recycle it where appropriate. Moreover, the share of recycled materials in production will also be constantly increased.
Regardless of where our products are manufactured, global standards and the latest technologies have the highest priority at all our plants. For our customers, for our employees, for the environment – and for our future.
Profit
The economic dimension
The comprehensive life cycle assessment process was expanded to the field of logistics as this area also focuses on the environmental impact in addition to reliability and profitability. This creates transparency for the systematic reduction of CO2 emissions and for making decisions on working with selected companies.
Sustainable operations demand the highest ethical and environmental protection standards – including in the area of procurement. As a result, suppliers are obliged to adhere to a comprehensive Code of Conduct based on the same standards that Geberit applies to itself. This covers issues such as environmental protection, socially acceptable working conditions and fair business practices.
In terms of Profit, our sustainability strategy focuses on five sustainability modules in particular:
Eco-design
During the development process, Geberit products are optimised with regard to their environmental friendliness, resource efficiency, recyclability and durability. Environmental aspects are already considered during technology development.
Green procurement
Suppliers demonstrably comply with Geberit's high standards for eco-friendly and socially responsible production.
Modern processes and infrastructure
Geberit procures, builds and operates durable and high-quality infrastructures such as buildings, equipment and tools. Global standards help us to systematically tackle areas with potential for improvement and achieve our goals.
Green logistics
Geberit optimises its logistics with regard to energy consumption, emissions and packaging.
Green building
Geberit has high levels of expertise in the fields of water conservation, drinking water quality, sound insulation, hygiene and cleanliness, which is why it is the leading partner in the planning and implementation of first-class sanitary solutions for green building.
Documents and links
Additional information
Social commitment at a glance