References - September 2016
A beachside gem
Freshwater Residence, Freshwater (AU)
The often limited space on offer in a bathroom means that sophisticated spatial concepts are required – and this was no different at Freshwater Residence. Thankfully, Geberit was on hand with suitable solutions.
Since 2016, a rock ledge above Freshwater Beach has been home to a beautiful multistorey villa, which is located around 17 kilometres from Sydney. The terrace offers breathtaking views of the popular surfing beach. When planning the villa, the focus was on creating spacious living areas, thus ensuring that the expansive sea view is not the only impressive feature of this building.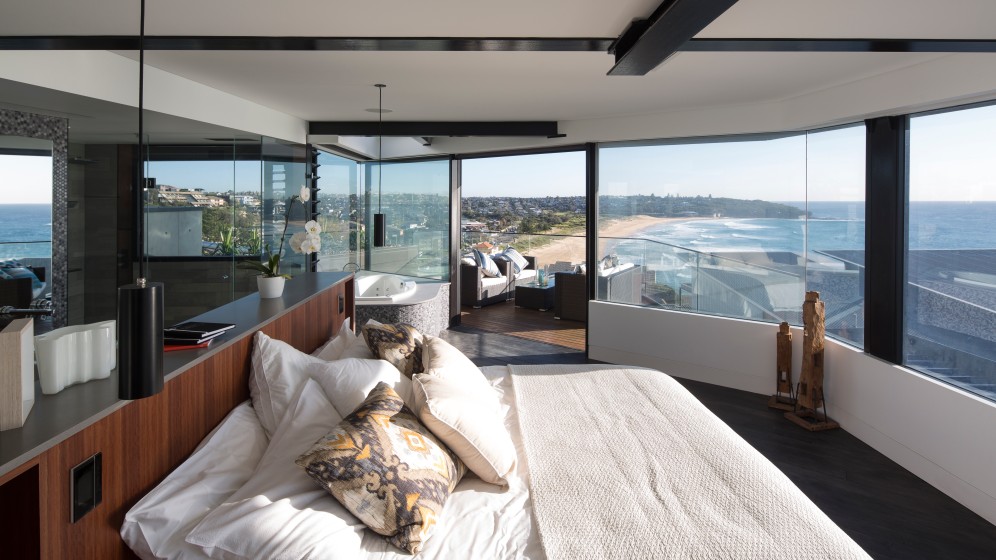 Perfectly matched
While the bathrooms are relatively small compared to the rest of the villa, it was possible to give them a space-saving, functional yet harmonious design. All the toilets are equipped with Sigma75 concealed cisterns, which are cleverly hidden behind the wall. This is made possible thanks to the prewall technology and the specially suited Duofix installation system from Geberit. Nothing was left to chance when selecting the actuator plates either, with the wall adorned by a Sigma50 with environmentally friendly dual flush that perfectly matched the bathroom design.
Geberit Know-How
Masterfully revised by industrial designer Christoph Behling, the Geberit actuator plate Sigma50 impresses thanks to its harmonious proportions, high-quality materials and first-class workmanship. The designer deliberately opted against incorporating edging, which gives the glass plate the appearance as if it were floating. The buttons are slightly curved, giving the actuator plate that added touch of class.