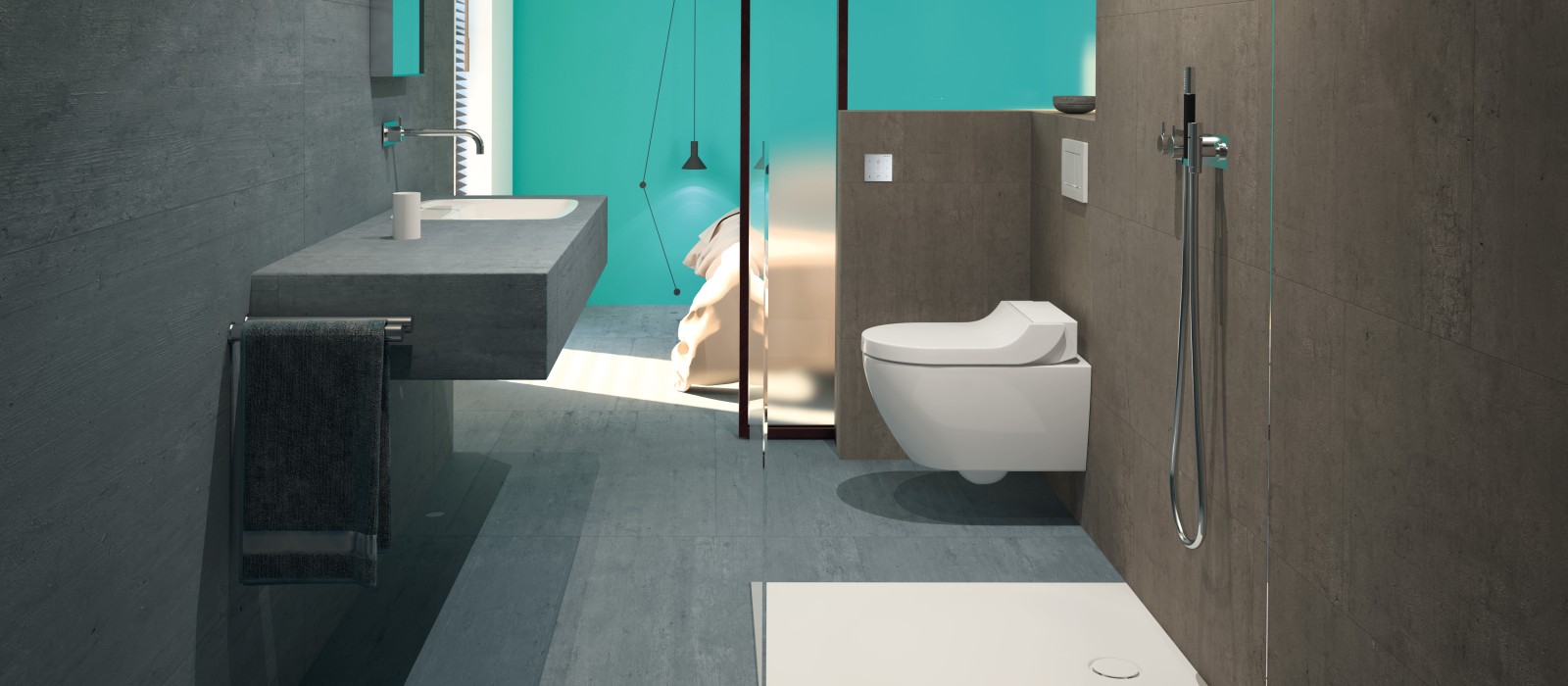 A compact all-rounder
The shower-toilet Aquaclean Tuma
The shower toilet AquaClean Tuma impresses thanks to its elaborate product concept and simple, elegant design. It is available both as a WC complete solution with a rimlessWC ceramic appliance. As an alternative a WC enhancement solution is available too.
The AquaClean Tuma, which was designed by the renowned London-based industrial designer Christoph Behling, fits into small bathrooms and guest WCs. Thanks to its simple, elegant and extremely slim design the shower toilet blends harmoniously into any bathroom environment and makes it more aesthetically appealing.
Versatile applicable
As an alternative to the WC complete solution, the Geberit AquaClean Tuma is also available as a retrofittable WC enhancement solution that can be fitted to the WC ceramic appliances of various manufacturers without any problems. Because extensive conversion measures are not required to install it – only the water supply and mains connections need to be prepared – the AquaClean Tuma can also be very easily retrofitted in rented flats. The new shower-toilet is a perfect solution for anyone who would like to enjoy the advantages of cleaning with water without the need for extensive conversions.
Comfort-enhancing features
The AquaClean Tuma has a range of familiar and valued functions which are known from other Geberit shower toilets – and all at an extremely attractive price. As a complete solution, the AquaClean Tuma features WhirlSpray shower technology, an odour extraction unit, a rimless WC ceramic appliance, a continuous flow heater that is specially designed for hard water and offers a permanent supply of warm water, an ergonomically designed, heatable WC seat, a warm-air dryer and an intuitive remote control.
Compact functional unit
In addition to the remote control, an app featuring a range of additional functions is also available so that users can also operate the AquaClean Tuma via smartphone. All the technical components are integrated into the functional unit above the WC ceramic appliance and can be easily accessed by the plumber and service technician. Needless to say, the shower toilet is compatible with all Geberit installation systems, the Monolith sanitary modules and the Aqua-Clean design panel.
Design Meets Function
The rimless WC ceramic appliance has no hidden or difficult to clean cavities. This prevents accumulation of germs and dirt deposits. An innovative flush technology with a patented flush guide ensure an optimal flushing out, even with minimal water volume.