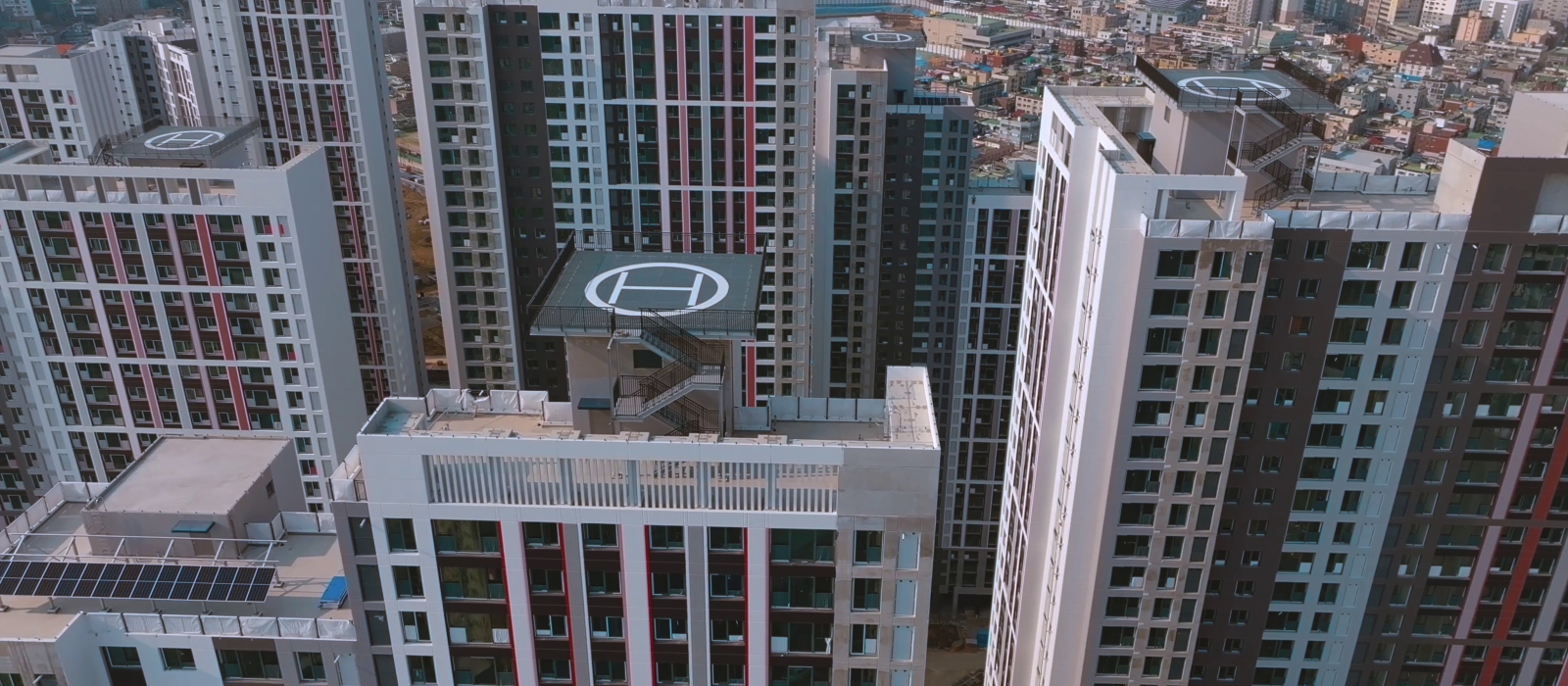 A GIS record in South Korea
Hillstate Prugio Juan, Incheon (KR)
Big fish for Geberit in South Korea: In Incheon, a GIS project came about the likes of which the sales company responsible had never seen before.
It has been going on for 30 years - the success of the GIS installation system. In Western Europe, GIS is an established solution for prefabrication, and now the system has been discovered in South Korea. Thanks to a joint venture between the two South Korean conglomerates Hyundai Engineering & Construction and Daewoo Construction - and, of course, the Geberit sales company NSEA (North and South East Asia) in Singapore, which is responsible for South Korea.
The two construction companies realised a gigantic skyscraper project in Incheon, South Korea. The city of Incheon is a huge suburb of the capital Seoul. And the Hillstate Prugio Juan project is almost a city within a city. It consists of 22 buildings, more than a dozen of which are towers, and contains almost 3,000 residential units.
"GIS accelerated the work enormously."
Alex Shin, Head of Sales, Geberit South Korea
Innovation in many forms
The project is innovative - so the construction company also wanted to break new ground in the bathroom. The GIS installation system was to help with this. "In South Korea, people usually build with classic bricks," says Alex Shin, Head of Sales at Geberit in South Korea. "Pre-wall installations, such as those made possible by GIS, have hardly existed in residential construction up to now. The cistern goes on the wall.
The GIS system now hides the cistern in the pre-wall. It also enabled prefabrication in the workshops of the local sanitary company Sky Systems. This company assembled the entire system walls, including Geberit Kappa cisterns and actuator plates, in the factory and then installed them in the shell. "This accelerated the work enormously," says Alex Shin. For both the construction company and the sanitary company, this was a novelty; one that was crowned with success.
Quick installation
In record time, the pre-wall cisterns were installed - a whopping 5'800 pre-walls. 65,000 linear metres of GIS frames are now in the towers of the Hillstate Prugio Juan. A great success for Geberit NSEA. "Not only is this the first residential project with GIS in all of South Korea, but it is also the largest GIS project our market has ever been able to sell," says Elaine Naveen, Head of Marketing and Product Management at Geberit NSEA. Geberit NSEA Managing Director Michael Allenspach adds: "We want to seize the moment so that these 5,800 GIS constructions are the beginning of a new era in South Korea."
Know-how installed
With Geberit GIS, complete sanitary walls are created in just a few steps from the support system, installation elements and system planking, right up to the tileable surface. A single person can carry out the entire installation alone thanks to tool-free support system connection technology. Construction tolerances can be easily compensated for with GIS.