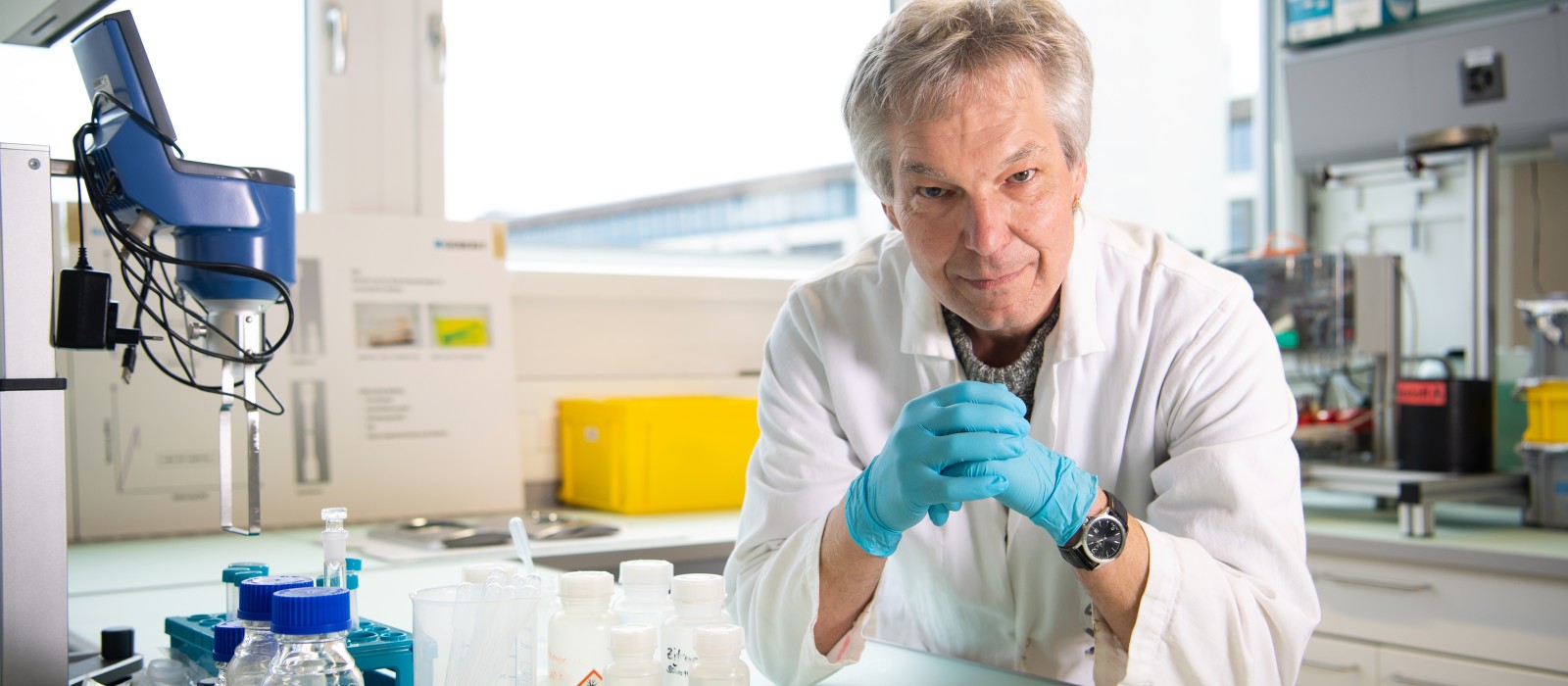 A hairdresser in a lab coat
How an accident turned into a stroke of luck
His forklift test opened the door for him to join Geberit. Today, Bruno Jud wears a lab coat. Behind this - also due to an accident - is an extraordinary career at Geberit.
Practised, Bruno Jud performs a drop test with the pipette. He is testing how the surface of an actuator plate reacts to a cleaning agent. As he pulls up his safety goggles, the 56-year-old has to smile: "It's a huge pleasure and satisfaction what I've been able to tackle at Geberit over the past 32 years."
A forklift exam becomes an entry ticket
Bruno Jud grew up in rural Switzerland. He trained as a hairdresser in his hometown. "Precise work and dealing with people were important to me even then," he says in retrospect. But the young father soon realised that his income as a hairdresser was not enough to support a family. He succeeds better with manual labour, which is why he takes a forklift exam. In 1991, this became his entry ticket as an unskilled worker at Geberit Produktions AG in Rapperswil-Jona (CH). Here Bruno Jud passes through various areas - from tool service and storage to the plastic injection moulding shop, where he is promoted to foreman thanks to his great commitment.
"My exchange with the HR department was always characterised by mutual trust and constructive interaction."
Bruno Jud, Technician Materials Laboratory, Rapperswil-Jona
Blessing in disguise
In 2019, a complicated shoulder operation slowed him down and made his former job as a machine setter impossible. But Bruno Jud did not want to despair. On the contrary: "My exchange with the HR department was always characterised by mutual trust and constructive interaction," he emphasises. Together, Bruno Jud succeeds in finding a completely new challenge after 28 years at Geberit: He becomes a technician in the materials laboratory of the "Technology and Innovation" department.
Enthusiasm for precision
What is primarily required here is precise work - and that has been in Bruno Jud's blood since his apprenticeship. Interest quickly turns into enthusiasm for the various tests and inspections that the team carries out for the Geberit Group in its nine laboratories. Bruno Jud can most often be found in the materials testing and chemistry laboratories. "At the beginning, I was very busy with tests for the FlowFit piping system, but in the meantime I also test many other Geberit products," he notes happily.