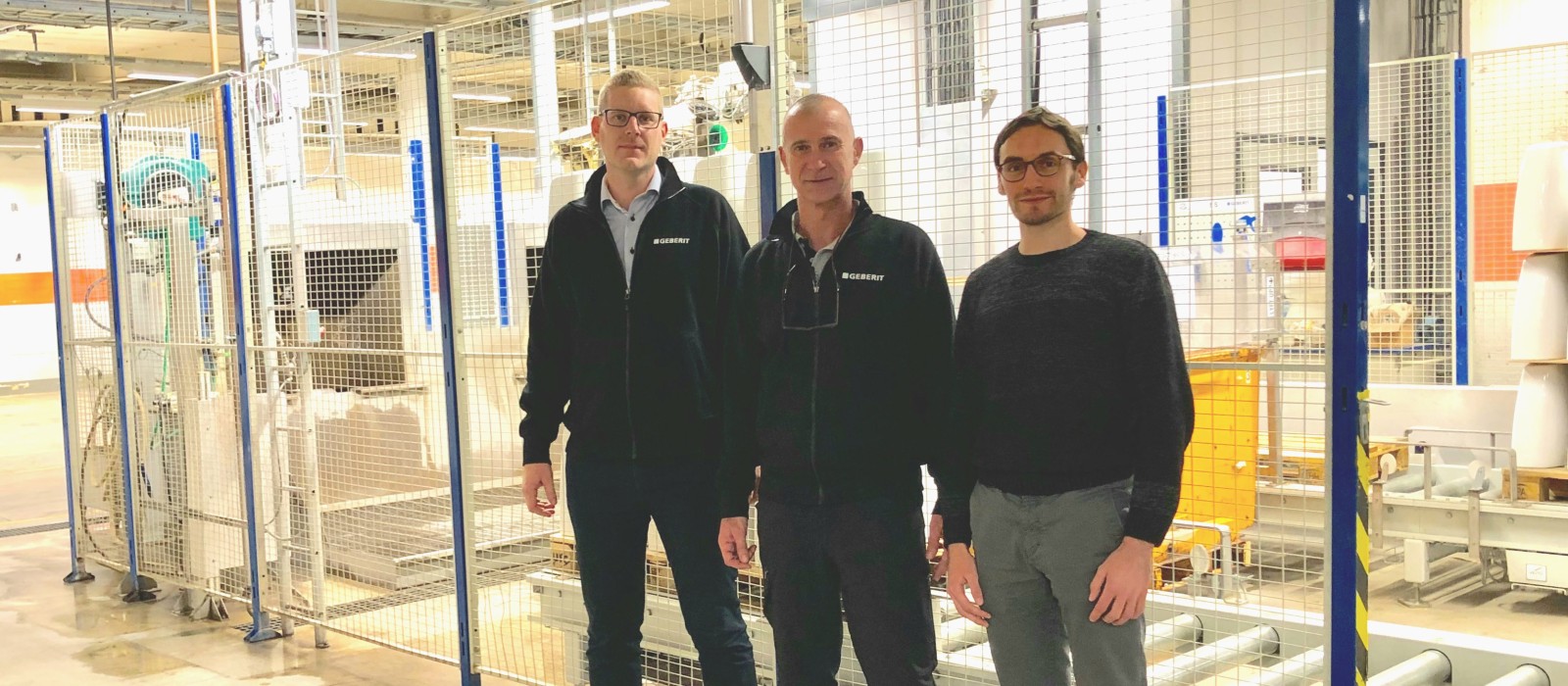 A special experience
Putting university skills to good use in optimising processes
Geberit gave Italian student engineer Antonio Rinaldi (right) the chance of taking part in a work placement at one of its European plants as part of his UNITECH studies. Antonio chose the Swedish plant in Bromölla, where he worked in the Project Engineering team under Johan Bergskans (left).
His primary task involved the optimisation of a special area of the production process for ceramic cisterns. Here, a machine cuts holes in the base of the cistern using a high-pressure water/sand jet. Antonio was tasked with developing a solution for preventing bottlenecks and lost production, which he reports on as follows:
"I classified the malfunctions and assessed their impact on the productivity of the system. Based on this, I then drew up some possible technical solutions – including from a HR management perspective. Here, I received in-depth support from Johan with all his technical expertise and through interactions with the experienced robot programmers.
What I really appreciated during my time in Bromölla was the possibility of holding open, direct discussions on the technical possibilities, not to mention the feedback and support I was given as a young engineer by the Plant Manager. This is what I enjoyed the most about this project – the path towards the solution and not just the solution itself. Ultimately, by working closely with the robot programmers and engineers I was able to improve the productivity of the water jet cutting machines."
Project number two
In a second project, the UNITECH student supervised the optimisation of a working area for inspecting the ceramic sanitary appliances. People have to work with many different products here, with a specific workflow in place for each ceramic sanitary appliance.
"During the project, I had the opportunity of exploring various different topics, from ergonomics and industrial economics all the way through to production technology. This allowed me to gain structured knowledge of the manufacturing processes seen in the ceramic industry, which in turn gives me the chance of quick, practical professional development while implementing the theoretical knowledge studied at university in practice.
Thanks to Geberit, this was a very special experience. I was also thrilled that the Managing Director was open to my ideas (which after all were only those of a single engineering student). My stay in Bromölla showed me that Geberit is a place where company values and working together are of prime importance – a place where all opinions count and where there is a huge chance of developing further and taking on responsibility if you are ready and willing to do so."
Antonio's future is still in the stars. However, it's clear that he is exactly the type of student Geberit is looking for when promoting young talent. More information on the Operations Development Program can be found here.