An archaic spectacle
Julier Tower, Surses (CH)
Rugged mountains form the backdrop for this theatre on the Julier Pass, which will presumably be in operation until 2020. Since the summer of 2018, the guests enjoy the comfort of high-quality sanitary facilities.
Visitors to this mystical venue could be fooled into thinking they are in a Roman amphitheatre, the Globe Theatre in London or a baroque opera house. The lines between stage and auditorium are blurred – an effect that is amplified by the height-adjustable stage. Most notable, however, is the fact that the mountain landscape is ever-present as a natural backdrop thanks to the countless arched windows. Regardless of the type of production – be it ballet, dance theatre or a concert – this beautiful alpine world never fails to impress.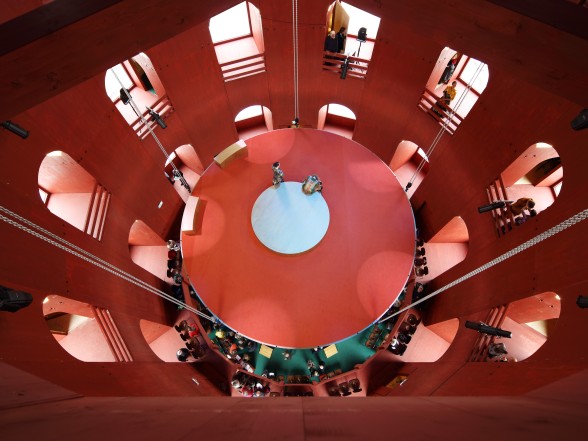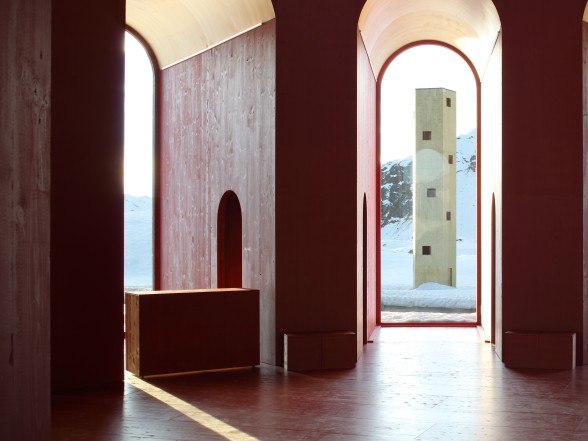 However, even the most fascinating production is unable to prevent the participants from needing to answer the call of nature at some point. Thanks to a number of clever and elegant sanitary products from Geberit – such as selected ceramic sanitary appliances from the iCon and Xeno² bathroom series as well as the elegant tap Brenta in connection with the proven installation technology from Geberit – the trip to the toilet has now become a worthwhile undertaking in its own right.
Design Meets Function
As an integral part of the Geberit tap system, the tap model Brenta allows a particularly economic operation. There are three available power supply options: connection to the mains supply, battery operation or a self-sustaining power supply by means of a generator unit driven by the pressure of the tap water.