An exceptional residential complex
Living Levels, Berlin (DE)
Since 2015, with 56 new luxury apartments that offer a magnificent panoramic view having been built at the end of the Berlin Wall, the popular district of Friedrichshain-Kreuzberg has a new attraction.
A new building adorns the cityscape at the end of the famous East Side Gallery, the longest remaining section of the wall that once divided Berlin. Located in a prime location, Living Levels – as the elegant residential complex is called – fits in perfectly with its surroundings thanks to its protrusions and recesses.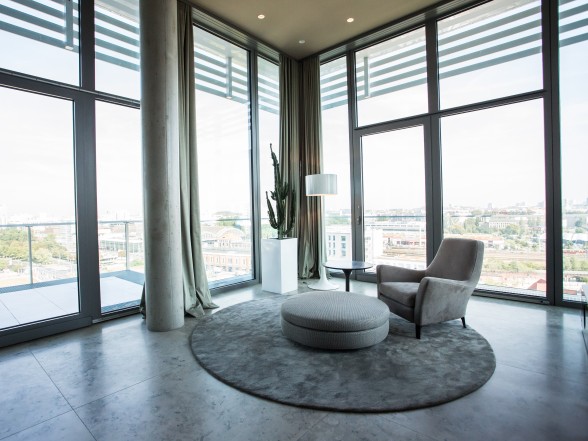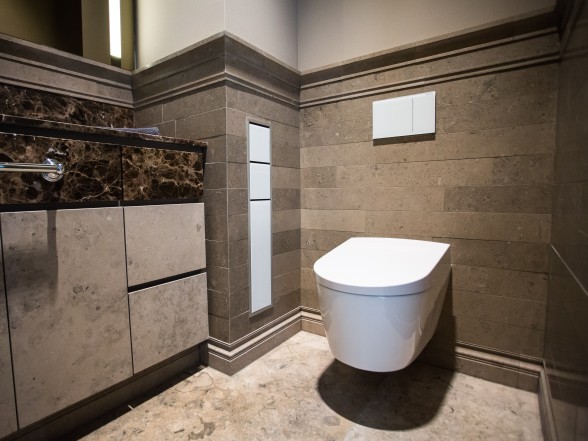 Panoramic view of the Spree
The freehold flats are spread across 14 floors. Located right on the bank of the Spree, the building impresses thanks to its spacious floor plans and high ceilings. The residential units' floor-to-ceiling windows and white facade elements reflect the ever-changing patterns of light on the Spree as it flows by. The view from the balconies – all of which offer a view of the Spree and the pulsating city life below – is truly exceptional.
First-class service
As the name of the complex suggests, the residents of Living Levels are treated to a particularly high level of residential quality. It is only fair, then, that a concierge ensures that the residents and guests are well looked after right around the clock.
Geberit Know-how
Several residential units were equipped with Geberit AquaClean Sela shower toilets. Thanks to its simple design, the hidden fastening and the elegant, flat housing attachment, you would be forgiven for not noticing at first glance that the toilet is in fact a shower toilet. The intelligent technology for the spray functionality and the connections for the power and water supply are all concealed in the ceramic appliance. The intensity of the gentle, body-temperature shower spray can be adjusted to one of five levels, while the oscillating spray provides a particularly beneficial clean.