References - January 2020
Bright future
Ayla Golf Club, Aqaba (JO)
The first piece of the puzzle at the Ayla Oasis development project is a golf course with spectacular buildings designed by Oppenheim Architecture.
Buildings by Oppenheim Architecture are both unspoilt and elemental. In case of the Ayla Golf Club, this is even more impressive when you consider that the area on the Gulf of Aqaba used to be a restricted zone during the Israel-Jordan conflict. Only now is the huge potential of this plot of land being exploited to the full.
Strength lies in tranquillity
Oppenheim Architecture is in charge of five of the construction projects in the master plan. The golf academy and two comfort stations (recreation areas with toilets) have already been completed. The characteristic wavy design gives these buildings a sense of charisma and calm. The architects speak in this context of a "silent monumentality". The design of the roofs also defines the building interiors. As a result, there is a complete lack of exact angles and alignments. The architects consciously use organic shapes that openly highlight the traces of the construction process.
Learning by doing
As the process of concrete spraying was widely unknown to those on site, the construction of the two comfort stations was used as practice and accompanied by experts from Switzerland. The larger academy building was then built in its entirety by the local workforce. "Our blueprints allowed to cope with inaccuracies during construction, which give the building its organic character", says Beat Huesler from Oppenheim Architecture.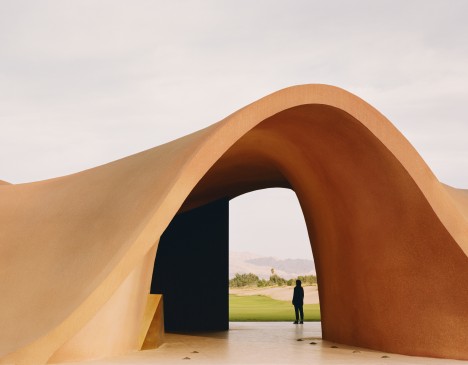 Design Meets Function
Projects like the Ayla Golf Club depend on the big gesture and the small details as well. The Sigma01 flush plate in special brass came as a call: it blends in well with the architectural concept and features the water-saving dual flush technology.