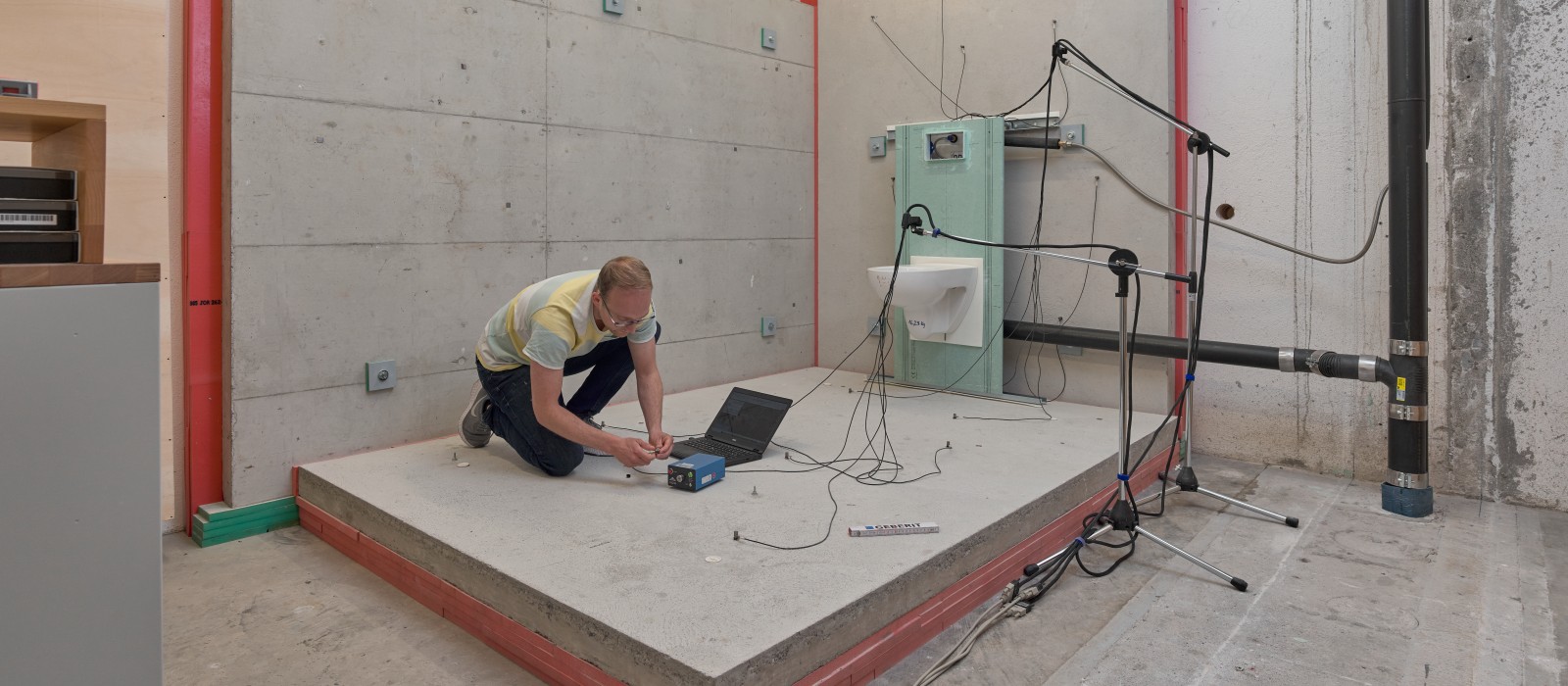 Competencies - October 2022
Detective work in the acoustics lab
Innovative test stand for sound measurements
How and where is the structure-borne sound of a cistern transmitted into the building structure? This question can be answered precisely with a reception plate test stand.
A Duofix installation element with concealed cistern is anchored to the floor and wall, connected to a water pipe, then planked with plasterboards and finally covered with ceramic tiles. All in all, this creates numerous possibilities for how sound could be transmitted to the building structure.
Microphones or acceleration sensors can be used to determine precisely how loud the flushing and filling noises of the cistern are in the rooms directly next to or below it. What remains unanswered, however, is how and where the sound energy was transmitted to the building structure in the first place.
"As far as I know, Geberit is currently the only industrial company that has such a test stand."
Joachim Förster, Acoustics Engineer at Geberit
Geberit at the forefront
"What we were looking for was a method that would make it possible to systematically examine every single sound bridge," explains Joachim Förster, development engineer for acoustics in Geberit's building technology and acoustics laboratory in Rapperswil-Jona (CH). As a member of a European standards committee, he accompanies basic research projects at some universities. In this capacity, he was involved in the development of a reception plate test stand. "
The concept of this test stand convinced us, which is why we decided to set one up in our laboratory as well. As far as I know, Geberit is currently the only industrial company that has such a test stand." The reception plate test stand essentially consists of three mighty concrete plates weighing several tonnes each. Together they form the corner area of a room - i.e. a floor slab and two wall slabs. Each plate rests on vibration-absorbing foams and is thus decoupled from the building structure and the other plates.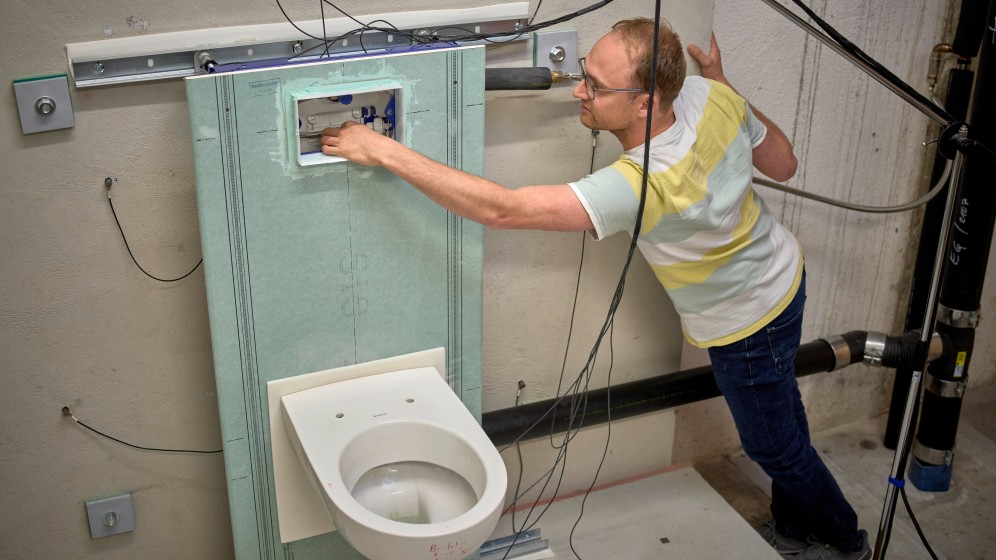 Unknown sound pathways discovered
"Each of the three concrete plates serves as a recording media for sound energy, which I can detect precisely by means of acceleration sensors," Joachim Förster sums up how the test stand works. In the test setup with the above-mentioned Duofix for the WC, it is possible to measure how much sound energy is conducted into the floor or into the wall after each individual installation step. This is time-consuming but revealing detective work: "For example, we discovered additional sound paths in the planking of the cistern that we had never examined before," Joachim Förster reveals.
Meaningful database
As a result of the systematic sound measurements on the reception plate test stand, an increasingly comprehensive base of reference data is being created. This data makes it possible to create standard-compliant sound forecasts for new buildings. Joachim Förster is convinced that this will enable Geberit to provide planners, architects and building owners with even more competent support in the design of sound-optimised sanitary rooms.