"Entire cities built out of Lego"
Women in technical professions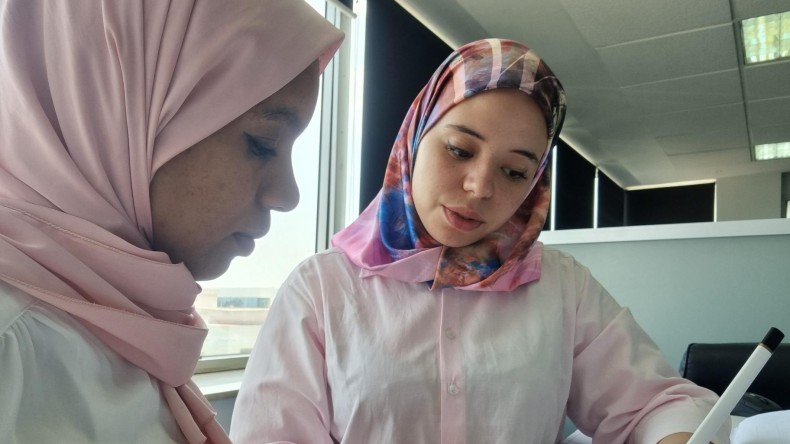 Construction has fascinated Khadija Agouzal since she was a child. Back then, it was still in manageable dimensions in the form of cities made of Lego. Today, the design engineer plans sanitary and piping systems for "somewhat larger" buildings in French-speaking Africa.
Khadija Agouzal and engineering – a fascination that goes back to childhood: "I built entire cities with Lego," she recalls and laughs.
Her flair for construction has remained with her into adulthood. After graduating with top grades in electrical engineering, she pursues a second bachelor's degree in the technology and management of buildings and public works at the Faculty of Sciences in her Moroccan hometown of Casablanca. In order to become a master of the entire range of topics in her field, she completes a master's degree in climate and energy engineering in the middle of the pandemic.
The best prerequisites for her job as a design engineer at Geberit. Attracted by the international environment and company culture, she has been working at the sanitary technology group since 2016.
"Geberit invests in its employees and develops them. That's how the company manages to keep them for years."
Khadija Agouzal, Design Engineer
Calculating, planning and designing
The 29-year-old develops technical conceptions and solutions for projects that the Technical Sales Engineers obtain. In addition to the Moroccan market, she also looks after other countries in French-speaking Africa. "My work begins with the design phase and ends with the execution phase. I analyze the drawings we receive from the customer, plan the conception with Geberit solutions, for example Pluvia or SuperTube, and prepare a quotation including price lists for the sales team." She also attends sales meetings and provides technical support during the execution phase.
What sounds like a piece of cake to her requires not only technical expertise but also a good understanding of the different stakeholders – in the course of a project, she works with architects, consultants and engineers.
Five years and still far from enough
At Geberit, Khadija Agouzal finds what she is looking for. Tolerance and appreciation are held in high regard: "People feel equal to each other, regardless of background or religion". Last December, she celebrated her fifth anniversary with the company. "Geberit invests in its employees and develops them. That's how the company manages to keep them for years," she says, explaining the high average length of service. Khadija Agouzal is also planning her future with and at Geberit: she sees herself as a future team leader.