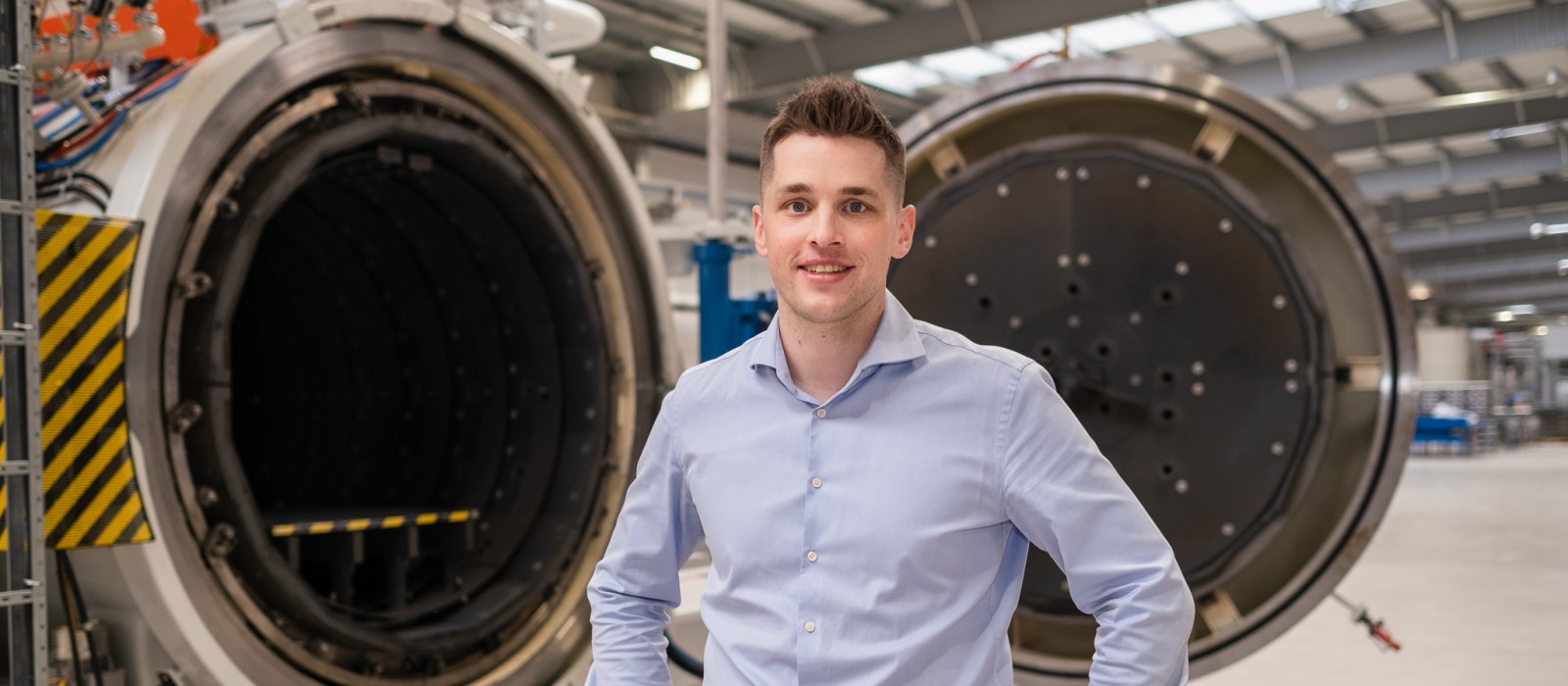 EMPLOYEES - FEBRUARY 2022
FROM CAR MECHANIC TO HEAD OF PRODUCTION
NOT A STANDARD CAREER
The ability to renew ourselves – one of Geberit's five values, which Pascal Bühler lives by like no other. The trained car mechanic works his way up at Geberit to become Head of Production of the plant in Ozorków. Along the way, he finds a new home in Poland.
"I didn't go through the standard career path," says Pascal Bühler with a mischievous smile. He stands casually at the desk in his office in Ozorków, Poland. As Head of Production, the 33-year-old Swiss national leads more than 160 employees.
Car mechanic with leadership flair
After completing his apprenticeship, the military training school and a stay abroad in the USA, the trained car mechanic knows that he wants more. It is summer 2011 and Geberit Apparate AG (GAAG) is starting production of AquaClean shower toilets in Jona. Pascal Bühler is hired as quality assistant. "I was pretty unfamiliar with the field, but I was given the chance." And he seizes it. Barely a year later, the then 24-year-old takes over as head of the quality team and sets up a quality control system.
With second-chance education to a Bachelor's degree
Parallel to his job, he goes to school to improve his business administration and technical knowledge. During the day he earns his spurs at Geberit – "the day-to-day business was anything but quiet" – in the evenings and on Saturdays he continues his education, attends lectures, crams.
"During this time, I hardly had a private life," Pascal Bühler admits and immediately adds: "It was a lot, but never too much. I had great support from my boss Karl Zahner, my team and my environment." Geberit pays half of the training costs and allows him flexible working hours. His supervisor regularly seeks discussions with the prospective manager. "A win-win situation," says Pascal Bühler.
"Totally motivated to put myself out there"
Having just completed his Bachelor of Business Administration, he takes part in Geberit's Potentials Management Program. "I still benefit from this network today," he says.
And how did the dynamic Swiss come to Poland? "I was free from any obligations, interested in a career and totally motivated to put myself out there," he says. In November 2018, Pascal Bühler travels to Poland for the first time in his life, introduces himself – and is hired as Head of Production in Ozorków. The adventure in a foreign country begins in spring 2019.
Learning to swim
"I learned to swim in cold water, so to speak," he says. The site is growing rapidly, many projects are underway at the same time, such as the construction of a 9 000 m2 hall. Managing three production areas presents challenges every day – including the language barrier. Nevertheless, the pragmatist quickly settles in. This is also due to the support of his Polish compatriots and his team in Ozorków. "Not once has it happened that my team has not supported me," says Pascal Bühler. It's a culture – the Geberit culture – that he actively promotes himself: "I want to pass on the support I have experienced myself to my people. I want them to have the same opportunities as me."