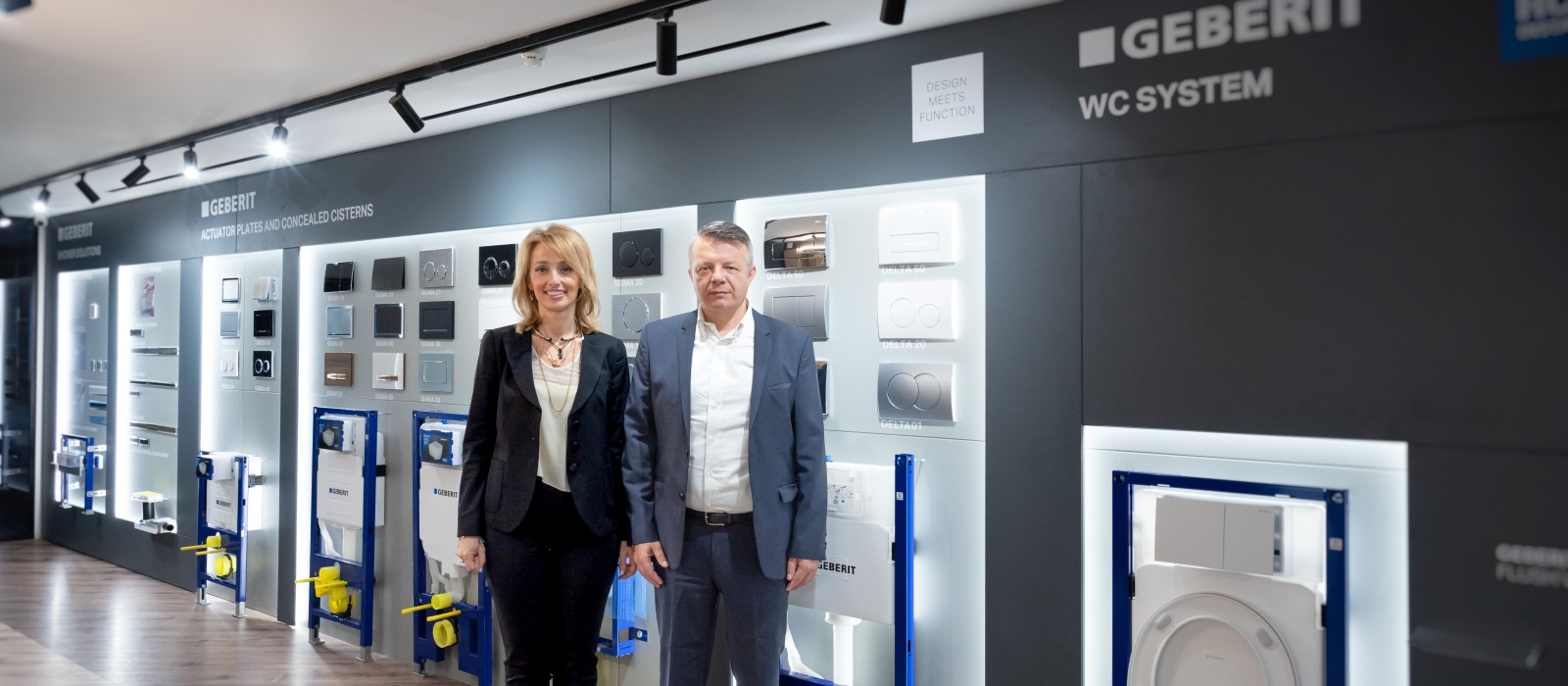 Geberit Greece takes off
New headquarters in Athens
Offices, a showroom, training rooms: the first headquarters of Geberit Greece is quite something. Recently occupied, operations at the new headquarters are running at full speed. Thanks in part to a major project in the Athens neighbourhood.
Things are going well in the south of Athens. On the site of the former Hellenikon Airport, one of the largest construction projects in Europe is currently shooting up. The "Ellinikon" project will include luxury residences, hotels, a casino, shops, offices – and one of the world's largest parks, bigger than Hyde Park in London or Central Park in New York.
Of course, Geberit products of all kinds are installed there. For example, SuperTube in skyscrapers, but also Pluvia, toilets and cisterns, as well as AquaClean shower toilets. But not much can be said about that yet. Vasiliki Sfika, Head of Geberit Greece, says: "Only small orders have been received, the project is not yet in the interior construction phase."
Offices, showroom, training room
What happened around the corner from the large construction site a few weeks ago is all the more newsworthy for that. Geberit Greece moved into its own offices for the first time – including a showroom and training room. The building, in which Geberit has rented an entire floor, was under construction for almost nine months. "Before that, we had to work from the home office."
In the beginning, Vasilika Sfika's team consisted only of her and her retail sales consultant Vangelis Kazalis, but in the meantime she has hired more people. From Switzerland, she gets additional help from a technical consultant.

"Our new premises are in a prime location".
Vasiliki Sfika, Head of Geberit Greece
One month, eight trainings
So the infrastructure is in use right from the start. This also applies to the training room. In the first month since moving in, the team has held eight training sessions with installers and retailers. "We have room for 15 to 20 people, and demand is high," explains Vasiliki Sfika. That's why the training area currently enjoys high priority.
The highlight of the new premises, however, is the showroom, the first in the whole of Greece to be dedicated exclusively to Geberit. It displays Geberit products over an area of around 250 square metres.
"Our new premises are in a prime location," says Vasiliki Sfika confidently. "This is where the biggest development in Athens is taking place – an area that is booming." Driven, of course, by the gigantic "Ellinikon" project just around the corner.