References - January 2022
Green airport
The Circle, Zurich (CH)
The Circle is a prime example of high-density construction, taking 30,000 m2 of floor space and transforming it into 180,000 m2 of usable space. The building complex at Switzerland's largest airport in Zurich-Kloten is also setting new standards when it comes to sustainability. Geberit is also making a contribution here with a range of products.
Anyone arriving at The Circle – before flying off on holiday, for example – would be forgiven for thinking they are in a city centre and not at an airport. The Circle is a modern development that is home to shops, bars and restaurants, offices of international companies and a congress centre for 2,500 guests. Two Hyatt hotels and an out-patient clinic run by University Hospital Zurich round off the amenities on offer in this bustling hub, where the 30,000 m2 of floor space originally available has now been multiplied. This concept is known as high-density construction, where every cubic metre is valuable and can be used in a wide variety of ways.
Putting greywater to good use
In addition to its modern, flexible usage concept and contemporary look, The Circle also meets another essential requirement in modern-day society – namely sustainability. Open to the public since November 2020, The Circle sets new benchmarks from an ecological perspective. As a result, the new building was awarded the highest LEED Platinum rating by the U.S. Green Building Council. The modern development also became the largest building project to be certified according to Swiss Minergie guidelines to date.
Among other aspects, the handling of water contributes to the positive life cycle assessment of the building complex. Thanks to water-saving taps and the use of rainwater as greywater, The Circle only requires around half the amount of drinking water seen in normal buildings. Around 85 per cent of the toilets in the building are flushed using greywater. Geberit is contributing to this concept with the Pluvia roof drainage system and Silent-db20 sound-insulating piping system.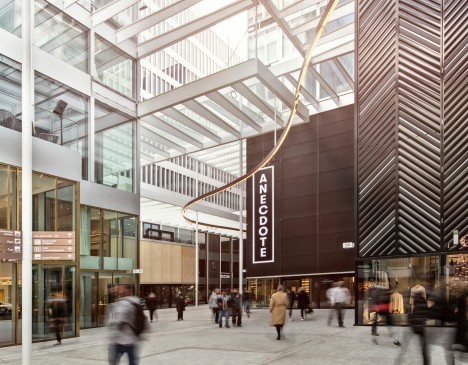 Green at heart
However, the green heart of The Circle can be found above all in the anergy network for supplying heat and cooling. Of the 1,150 piles in the foundation, 850 have been designed as energy piles. In summer, these transport excess heat underground where it is stored as energy. In winter, this heat can then be used for heating the building. External energy in the form of electricity is only required for operating the heat pumps and refrigerating units. Some of the electricity is also generated from solar power, with solar panels installed on all suitable roof surfaces.
The Circle is not only green at heart, but also has its own green lung, with 80,000 square metres of forest, meadows and marshland transformed into an airport park where travellers and residents alike can kick back and relax in the heart of nature.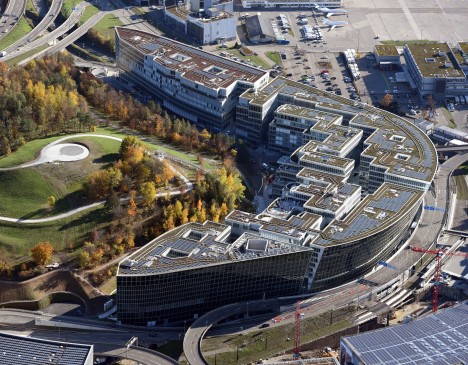 The Circle
Owner: Flughafen Zürich AG and Swiss Life AG
Architect: Riken Yamamoto
Opening: 2020
Geberit know-how
Pluvia roof drainage system
GIS and Duofix installation systems
Silent-db20 drainage system
Sigma30 actuator plate