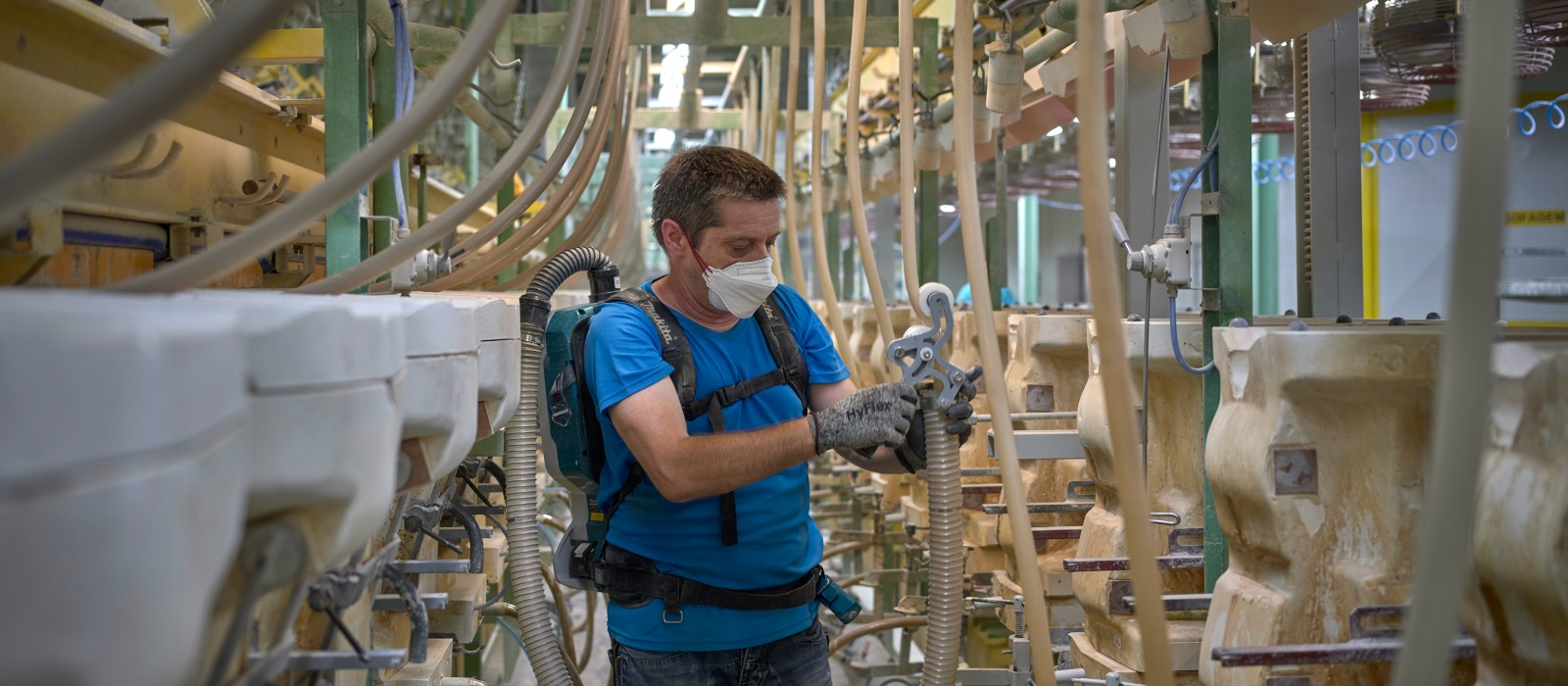 Sustainability - April 2022
Health is a great value
Effective protection against dust
To protect employees from dust, the Carregado ceramic plant has even had developed a vacuum cleaner. The result of the measures can be seen after a very short time.
It is an unusual picture: A man, wearing a mouth guard and equipped with a strange backpack hoover, is vacuuming hoses that lead to plaster moulds. Air is blown through these hoses into the plaster moulds. The air then pushes the slip out of the moulds. Every day, the hoses are cleaned with a hoover. The dried casting compound that has entered at the other end of the hose is sucked out and collected for recycling. 180 kg of material are collected per day.
Own initiative
The hoover for cleaning the hoses was developed on the initiative of the Carregado ceramics plant. The material savings are only a side effect. The hoover prevents the spread of silica dust in the air and on the floor of the casting shops and is one of several measures to reduce the dust concentration in the plant.
Clean air - good working conditions
In ceramic plants with predominantly manual processes, dust reduction in production is therefore a particularly urgent concern. This is also the case at the ceramics plant in Carregado in Portugal. "It is very important for us to reduce dust exposure and thus improve working conditions," says Pedro Almeida, Environment, Health and Safety Manager in Carregado. Two departments are currently receiving special attention: casting, where ceramics are cast and moulded, and glaze preparation. This is where dust levels are highest.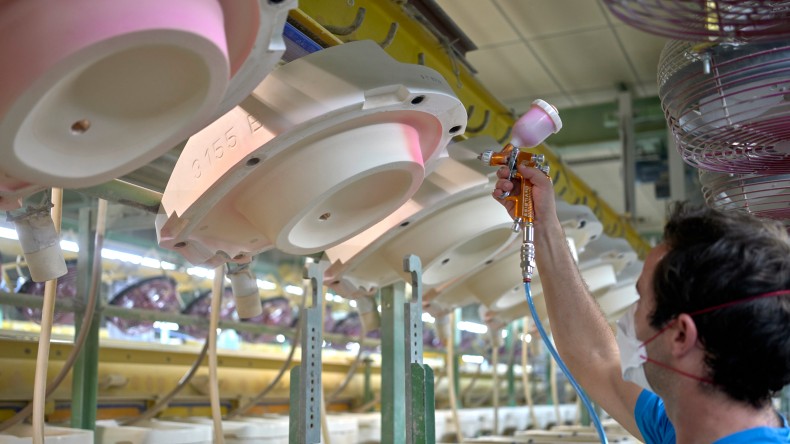 Clever alternatives reduce dust exposure
To release the ceramic from its mother mould, talc powder is used, for example. Like the flour in a cake baking tin, the talc powder prevents the still moist ceramic from sticking to the mould. However, applying the powder creates a lot of dust. In Carregado, various alternatives have contributed significantly to lowering the dust concentration during this step. For example, the talc powder is mixed with water and sprayed onto the surface of the mold.
Good working conditions - high motivation
Thanks to the measures introduced, the dust concentration at the Carregado plant has dropped massively. "The employees see that protecting their health is important to all of us. The measures have not only improved the working conditions, but also the motivation in the team," says Pedro Almeida.
Watch the video to learn more about the dust reduction in the Carregado plant.