References - September 2023
How Pluvia saves a museum ship
Hurtigruten Museum in Stokmarknes (NO)
The Norwegian storms were on the verge of destroying a 60-year-old ship from the Hurtigruten shipping line. But a movable building shell saved the historic piece – not least thanks to Geberit products.
She is one of the largest museum pieces in the world: around 81 metres long, almost 13 metres wide. The MS Finnmarken from 1956 is a Norwegian ship that replaced one of the many transport ships damaged in the Second World War. Since the mid-1990s, the MS Finnmarken has no longer circulated and was stranded as an exhibit in the Norwegian town of Stokmarknes. Recently she has a roof over her head.
The water damages the ship
You wouldn't think it, but the water of all things has taken its toll on the ship in recent years. For decades, the vessel circulated on the famous Norwegian postal shipping line Hurtigruten. But since its decommissioning, it has been mercilessly exposed to wind and weather – in a storm-ridden area of Norway.
A committee of politicians from that district therefore considered scrapping the ship. That alone would have cost a good 2 million euros, those responsible realised. And decided on a far more expensive variant: a building shell around the ship, directly connected to the nearby Hurtigruten Museum. With costs somewhere between 7 and 14 million euros.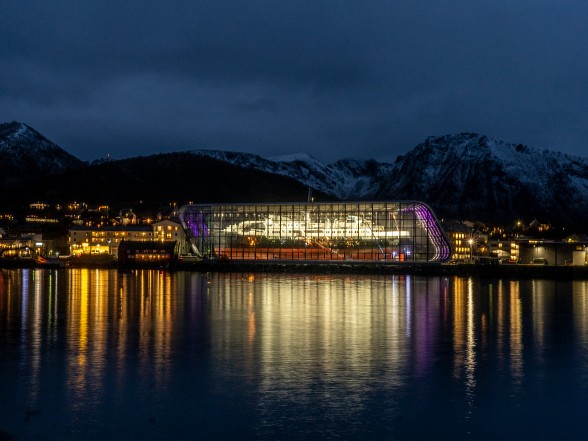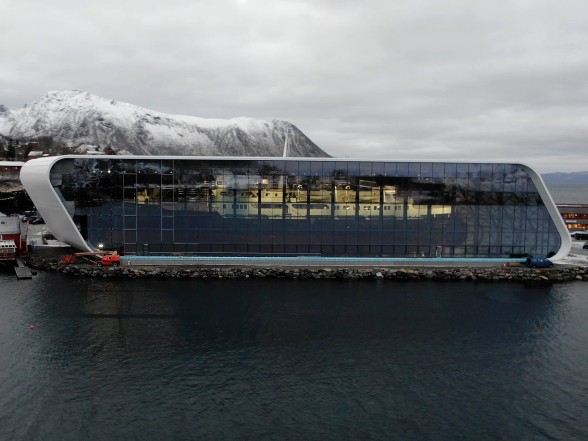 A movable glass envelope
Today, this shell stands, a glass building designed for the harsh northern climate. It can move up to eight centimetres in all directions for storm resistance. This construction requirement placed high demands on the building materials – especially on the piping system.
The mobility of the new building increases the risk of a burst pipe. Project manager Geir Jimmy Søreng from Geberit Norway was able to help out. He says: "The Geberit solution is tailored down to the smallest detail." The pipes are arranged horizontally and the system is completely welded from floor to roof.
The sometimes extremely high amounts of rain place additional demands on the flat roof of the glass envelope. A case for the Pluvia roof drainage system from Geberit.
Pipes made of plastic were decisive
On the Norwegian market, Pluvia is the only roof drainage system with pipes made of plastic – a decisive factor for the movable museum building. Project manager Tomas Maske of the executing plumbing company RK Rør AS says: "The systems we have used so far are made of copper iron and cast iron. Both can be heavy." Pluvia and the PE pipes are easier to work with, he says. "The risk of leakage is minimal.
Know-how Installed
The syphonic roof drainage system Geberit Pluvia uses pipes with small dimensions, which fill completely with water when it rains heavily. A closed water column thus forms in the pipe, which results in natural negative pressure and also ensures a high discharge rate. This is Know-How Installed.