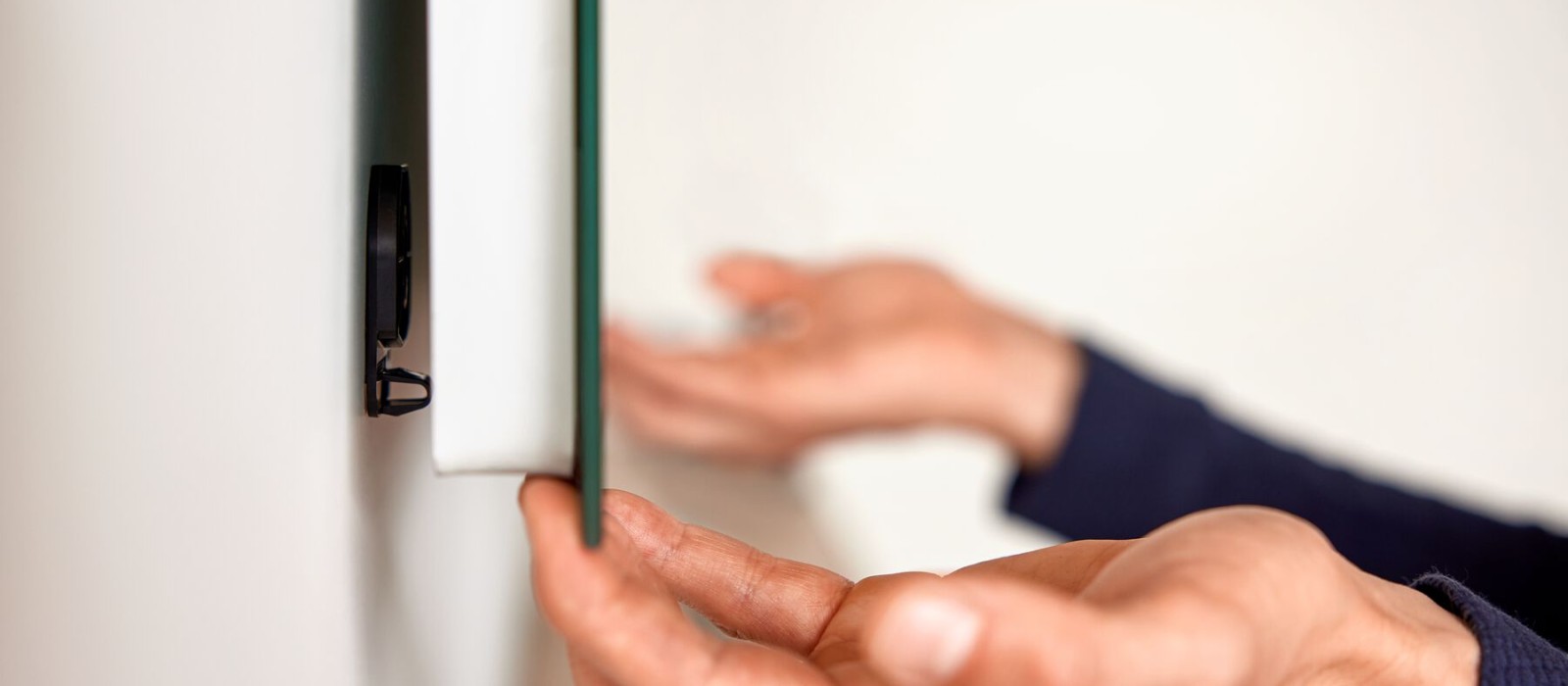 Illuminated mirror mounted effortlessly
So nothing goes awry
Sometimes it's the little things that make a difference. With FlexInstall, the new Geberit Option illuminated mirrors offer an innovative fastening solution that is height-adjustable.
It is about the size of a cookie and is hidden behind the mirror, but it makes a noticeable difference for installers: the sophisticated FlexInstall fastening system.
The system consists of two round wall-mounted holders and two safety clip fastenings. The holders are individually height-adjustable. This helps especially where the drilling holes in the wall are not at the same height. "With many conventional fastening systems, you have to drill new holes in the worst case," explains Geberit Product Manager Josua Plüss.
From the point of view of the installers
With the expansion of the Geberit Option mirror series, those responsible wanted not only more design variety, but also a functional solution to this recurring problem. "With new developments, we put ourselves in the installers' shoes," explains the Product Manager, "and ask ourselves how we can make their work easier".
The teams developed their own wall-mounted holder that is height-adjustable within a margin of up to five millimetres. By turning the fastenings and using a spirit level, the installer can easily align and quickly readjust the mirror – without any additional tools.

"FlexInstall is not a run-of-the-mill solution."
Josua Plüss, Product Manager International Rapperswil-Jona (CH)
Secure hold
Another highlight are the safety clips at the lower end of the mirror, which serve as additional fastening and unhooking protection. The drill holes for this do not have to be measured separately; thanks to adhesive strips, the clips adhere directly to the wall when aligned and can thus be screwed in quickly and easily. For Josua Plüss, one thing is certain: "FlexInstall is not a run-of-the-mill solution, but a well thought-out system that makes life noticeably easier for the installers."
Design Meets Function
Geberit has added new illuminated mirrors to the Option series this year, bringing the total to 40 models. The new mirrors ensure ideal lighting conditions in the bathroom and offer users an optimally illuminated mirror image. The two new shapes in Oval and Round complement the existing range of Square mirrors and really open up the design options. Thanks to additional sizes, the illuminated mirrors find their place in large and small bathrooms.