In the fast lane
Production technologist in Slovenia
She has already managed a toolmaking project for BMW and single-handedly implemented a health and safety standard in a company. Today, 24-year-old production technologist Inja Škrinjar and her team colleagues ensure smooth production processes at the Geberit plant in Slovenia.
Her professional achievements are in stark contrast to her young years: Inja Škrinjar, 24, now responsible at Geberit for production processes at the plant in Ruše, which specializes in plastics technology. For her, one thing is certain: "Age doesn't matter". After graduating from high school, the Slovenian is one of three women to complete the Industrial Engineering course, which has around 200 students, at the Faculty of Mechanical Engineering of the University of Maribor, one of Slovenia's top faculties.
"Age doesn't matter."
Inja Škrinjar, Production technologist
A good 1,500 individual parts for a BMW tool
Along the way, she gains her first practical experience in a toolmaking company. Almost single-handedly, she implements the ISO 45001 standard for occupational health and safety in the company, a major feat. In recognition, she rises to project manager, where the next challenge awaits her. "Normally, you start with smaller projects" - not her.
Her superiors entrust her with a prestigious project: managing the production of a die-casting tool for the BMW car brand. Meaning a tool with more than 1,500 individual parts, without her ever having learned what such a tool is made of or how to assemble one. But she perseveres, learns on the job and successfully completes the project.
She is the one who pulls the strings
With this backpack of experience, she joins Geberit in November 2019. The plant in Ruše, which specializes in plastics technology, hires her as a production technologist. In her role, she oversees several projects simultaneously.
Together with her team, she defines the work steps and resources for production and optimizes manufacturing processes. She is also involved in logistics and warehousing and in close contact with various departments. This requires organizational skills, a strong sense of order, independence, and a willingness to take responsibility.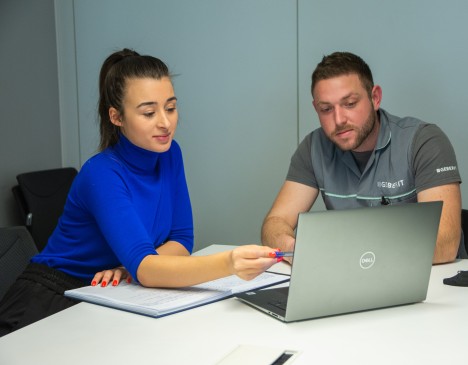 Independent and assertive
Nothing new for the native Slovenian, who stood on her own two feet at an early age. She knows how to assert herself in an all-male team. Not a disadvantage for her – on the contrary, she appreciates the uncomplicated culture. "Interaction with my teammates is easy and pragmatic. They don't take everything so seriously," she explains with a grin.