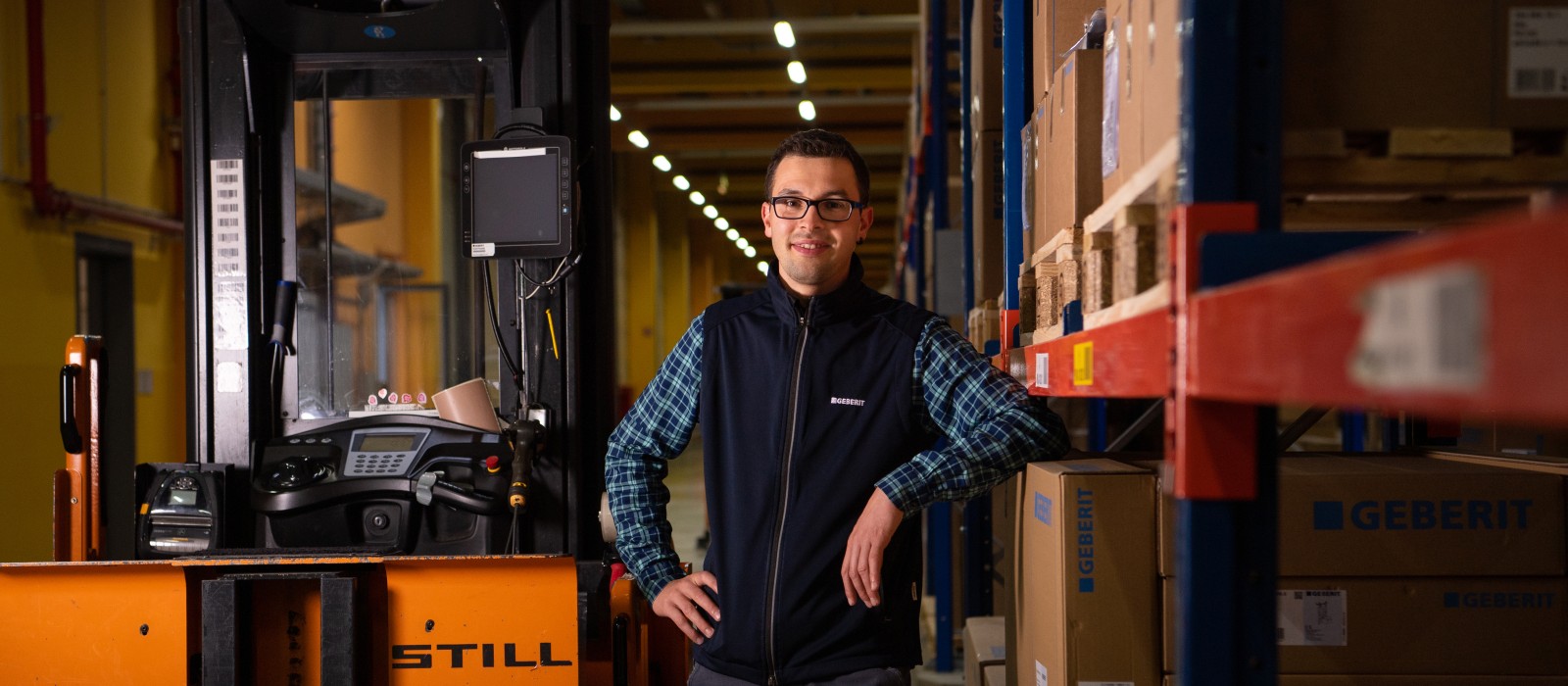 Employees - November 2022
Mediator between IT and logistics
Stefan Matheis from Pfullendorf (DE)
Stefan Matheis speaks both languages: IT and logistics. As Global Business Process Manager Logistics, he mediates between the two worlds and always finds solutions. His career began on the forklift.
Basically, it's a day of joy. After the intensive college period, you hold the certificate in your hands; life can begin. Stefan Matheis simply had a small problem: He didn't know what to do after school. So without further ado, he took up a "holiday job" at Geberit Logistics in Pfullendorf, where his father also worked. From there, he wanted to keep looking.
It was a picking job, Stefan Matheis spent a lot of time on the forklift, moving goods from A to B. He enjoyed it, wanted to stay. Since he also wanted to deepen the topic of logistics, he chose a dual course of study. Alternately three months each in logistics at Geberit and at the university. That was in 2008 and lasted three years.
After graduation, he was ready for more complex tasks – order processing and transport scheduling. He had to plan transports and calculate the load, intermediary between freight forwarders and internal logistics, production and sales. "The job gave me a boost," he recalls.
From key user to interface
Some time later, another area of responsibility was added: In addition to his logistics knowledge, Stefan Matheis brought with him a high affinity for IT. He took over the position as a key user for the introduction of a new warehouse management system, had to test functions and processes and provide comprehensive feedback.
And he also developed a new position – directly at the interface between IT and logistics. Gerd Hailfinger, Head of Group Logistics, had identified an urgent need for this. "IT and logistics are very different worlds. It is difficult for IT to understand the needs of logistics – and conversely, IT ideas often don't get to the logistics specialist properly." In Stefan Matheis he had found a man who speaks both languages. "Such an interface helps enormously," says Gerd Hailfinger. "You create a job and avoid many conflicts and misunderstandings in the long term, which cost many times more in the long run."
"IT can't solve all problems on its own."
Stefan Matheis, Global Business Process Manager Logistics
Help for the High North
Stefan Matheis knows such potential conflicts well. "IT can't solve all problems on its own, but you can usually work out good alternatives with clever communication." Like when IT decided to introduce new forklift terminals as a worldwide standard. For employees in the far north, this would have resulted in various disadvantages – for example, they would have had to constantly take off their gloves in winter to operate the terminals. Stefan Matheis intervened and found devices that were better suited to the local conditions.