More than just light
The development process at the light laboratory
Andrea Bühlmann and Andreas Janser are responsible for developing a new lighting concept for the Geberit ONE mirror cabinet at the Geberit light laboratory.
Lighting has not been among the core competencies at Geberit up to now. However, with a lot of work being done in this field in recent months this is now set to change. On one hand, a light laboratory has been established at Geberit headquarters in Rapperswil-Jona (CH). On the other hand, an in-house lighting concept has also been defined together with the development of a high-quality in-house light control.
Breaking new ground
"We wanted to develop a mirror cabinet with unique lighting and intuitive operation, the kind of which has not been seen on the market up to now. The aim was to combine design and lighting technology in perfect harmony on the new Geberit ONE mirror cabinet," explains Andreas Janser, one of the two key players responsible for achieving this ambitious goal. The qualified electrician with postgraduate studies in business management works as Product Manager International in the AquaClean team, and has already gained experience of light in the bathroom during his work on the shower toilets.
The technical side of things is taken care of by electronics development engineer Andrea Bühlmann. "We analysed and evaluated various light settings in the laboratory. The focus here was on the positioning of the individual light sources and harmonising the brightness and colour temperatures in order to achieve the best possible results," he explains.
What are the distinguishing features of the new lighting concept?
The result of the hard work at the light laboratory is the ComfortLight on the new Geberit ONE mirror cabinet with its patented, integrated lighting concept. This lighting solution is designed to perfectly illuminate the mirror image, washbasin and room with four light sources integrated into the Geberit ONE mirror cabinet. This lighting concept was one of the reasons why the Geberit ONE mirror cabinet was awarded the iF DESIGN AWARD 2021.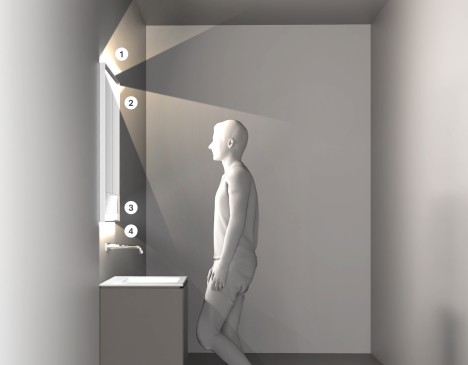 The intuitive operation of all light sources is made directly via a switch on the cabinet itself, or via an external light switch in the bathroom. Furthermore, the light control developed by Geberit also allows for connection to the Geberit Home App and other appliances in the bathroom, among other features.