New skyline
Milan's sustainable district
Thanks to its systematic sustainability concept, Porta Nuova could serve as a model for future urban development projects.
A district with a completely new design has been created 2013 in Milan: Porta Nuova. Twenty high-rise buildings, parks, a new metro station and underground car parks have been constructed in an area measuring 290,000 square metres around the Garibaldi railway station.
Sustainable district
The new district contains a host of prestigious buildings, including UniCredit Tower and the two "Bosco Verticale" residential towers. The UniCredit Tower bank headquarters is constructed from glass and steel and comprises a total of three towers, the largest of which stands at 231 metres. The complex is therefore currently the tallest building in Italy. The structure accommodates 4,000 employees and should reduce its CO2 emissions by around 30 per cent.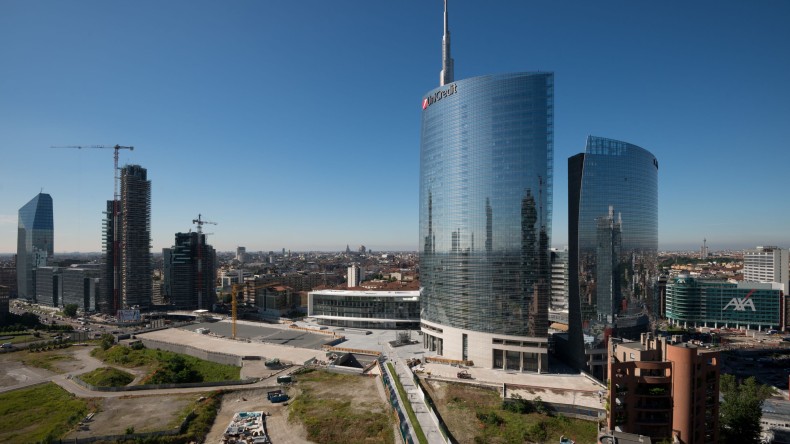 Living in a vertical forest
Just under five minutes away from UniCredit Tower are the two "Bosco Verticale" residential towers that aim to actively contribute to the regeneration of the environment and increasing biodiversity in major cities. Measuring 80 and 112 metres, the two towers feature a living area of 50,000 square metres and an additional 10,000 square metres of forest, with 730 trees, 5,000 shrubs and 11,000 perennials and groundcover on the building facades. Each of the apartments in the two residential towers comes with a spacious balcony with its very own mini forest that offers protection from the sun, noise and the polluted urban air.
Geberit Know-how
With the Geberit PE Sovent d110, hydraulic know-how from Geberit is now also available for discharge stacks with a diameter of 110 mm. Discharge stacks of this size enable the drainage of waste water from up to 66 residential units and are primarily installed in high-rise hotels, residential and office buildings, such as in the 231-metre UniCredit Tower.