Sustainability - December 2022
Once again highest award
EcoVadis sustainability ranking
The Geberit Group has been awarded the Platinum Medal by the EcoVadis platform for its sustainability management for the third time in a row. This places Geberit among the top 1% of all companies listed by EcoVadis.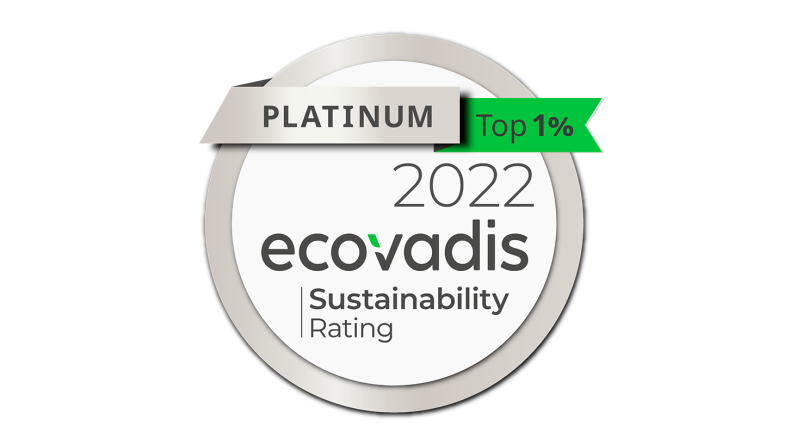 For the third time in a row, the Geberit Group has received a platinum award from EcoVadis for its sustainability management. This is the highest award given as part of the annual EcoVadis assessment. Geberit thus places among the top 1 percent of all companies listed by EcoVadis across industries and countries. The award makes it visible to customers and suppliers that Geberit has a comprehensive, systematic and long-term sustainability management system.
Geberit has been committed to sustainability out of conviction for more than 30 years and wants to play a leading role in the change towards a more sustainable sanitary industry. As early as 1990, the company drew up its first environmental strategy and implemented specific measures. Over the years, this strategy was gradually developed into a comprehensive sustainability strategy, is now an integral part of the corporate culture, and makes a significant contribution to the Sustainable Development Goals of the United Nations
Over 100,000 rated companies worldwide
Holistic and verifiable sustainability strategies are becoming increasingly relevant for companies. Platforms such as EcoVadis contribute significantly to the transparency of companies' sustainability performance and thus provide a basis for comparison for customers.
Since its foundation in 2007, the EcoVadis platform has developed into one of the world's largest providers of sustainability ratings for companies and has created a global network of over 100,000 rated companies. EcoVadis conducts risk and performance assessments in 200 industries and 175 countries. The analysis system comprises 21 criteria, which are divided into four thematic areas: Environment, Labour and Human Rights, Ethics and Sustainable Procurement.