Operation attic
The Geberit ONE family bathroom
Last year, the system solution Geberit ONE was one of the company's much-acclaimed innovations. Now the system is featuring in first conversion projects.
The attractive single-family house, built in 1953, is perfect for a young family. For a certain time, the attic with its separate toilet, measuring one and a half square metres, fulfilled its purpose as the ideal playroom for the children. Now it is to benefit the whole family. Geberit ONE has the leading role in the "Operation Attic" with two mirror cabinets, two washbasins with cabinets in high-gloss white (75 cm wide), a shower partition (90 cm), a CleanLine20 shower channel, a bathtub and two niche storage boxes with sliding doors for shower and bathroom. In addition, the client opted for the Monolith Plus sanitary module together with the Geberit AquaClean Mera Comfort shower toilet.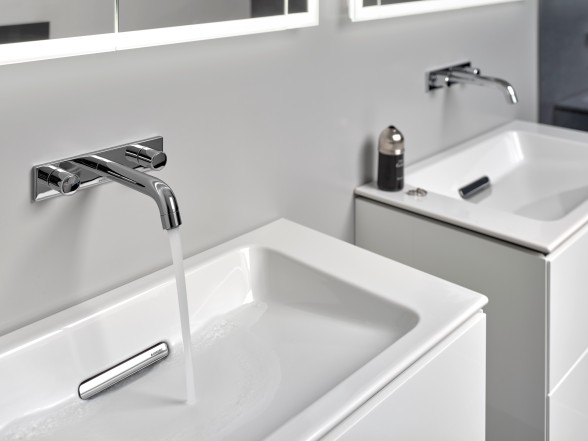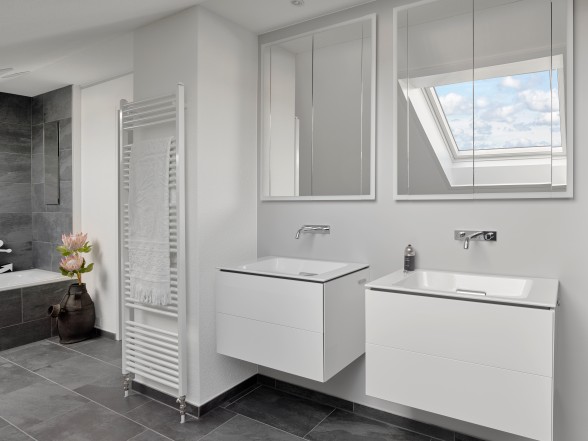 Design meets Function
The drain cover of the washbasin can be removed with a flick of the wrist, after which the comb insert can be removed for cleaning. The cover is held in place precisely by magnets – another of the many innovative details that make Geberit ONE stand out from the crowd.