Peter, Paul and their parallel paths
Careers in Pottenbrunn (AT)
At the Austrian plant in Pottenbrunn, two 24-year-old men began their apprenticeship together and have now taken on a management position almost at the same time. But the similarities don't stop there.
Their names are Paul and Peter – and they have many other things in common in addition to the first letter in their names. The two began their apprenticeship at Geberit in Pottenbrunn on the same day in 2013. And they both took on their first management roles here in 2022. Not to forget: they also have the same surname. Peter and Paul Harm are twins.
Different jobs
While Peter decided on a dual apprenticeship as a process mechanic for plastics and rubber technology and industrial tool mechanic, his brother Paul chose an apprenticeship as a plastic technologist. These sound sound similar, but the jobs are very different. After completing their training, they continued to work in different fields – Peter in tool maintenance, Paul as a setter for injection moulding machines.
The two careers run parallel, but not congruently. Paul Harm says he doesn't see his brother that often, even though they live only two miles apart and work in the same house. "This is also related to shift operation," he says.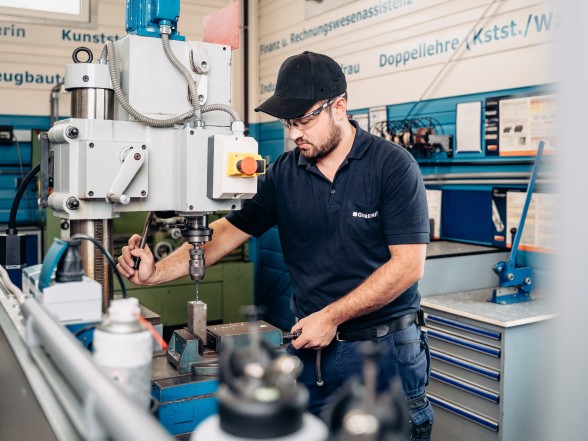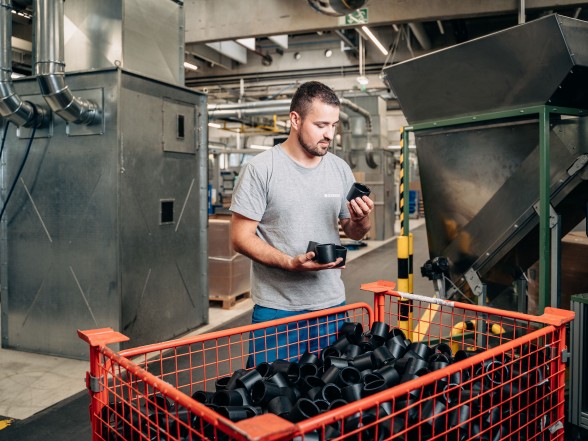 Apprentice trainer and line manager
Respectively, the fact that Peter Harm no longer works in shifts. Since January 2022, he has been an apprentice trainer, runs the apprentice workshop, gives courses and one-to-one support for the apprentices. His brother took a little more time. He worked on various production lines until the request came if he wanted to take over the management of the line with the production of electric sleeves. This was completely new territory for him, so he began to familiarize himself with it in spring, and since the beginning of 2023 he is managing the line on his own.
Paul Harm sees benefits for all parties involved in this, even if the existing employees have more specialist experience. "I can learn a lot from them, but at the same time I bring a different perspective and experience from other production areas to the table."
His brother Peter Harm has a similar constellation. He leads the apprentices together with an older colleague. "His experience is worth its weight in gold," says Peter Harm. "My strength is that I am closer to the learners in terms of age and can perhaps better understand their specific situations."