References - January 2023
Playing with the light of Provence
LUMA cultural centre, Arles (FR)
Arles, the capital of the Camargue region in the south of France, has a new attraction: above the city with its Roman amphitheatre, a tower by Frank Gehry glitters in the light of the sun. It is the landmark of the 11-hectare LUMA cultural centre.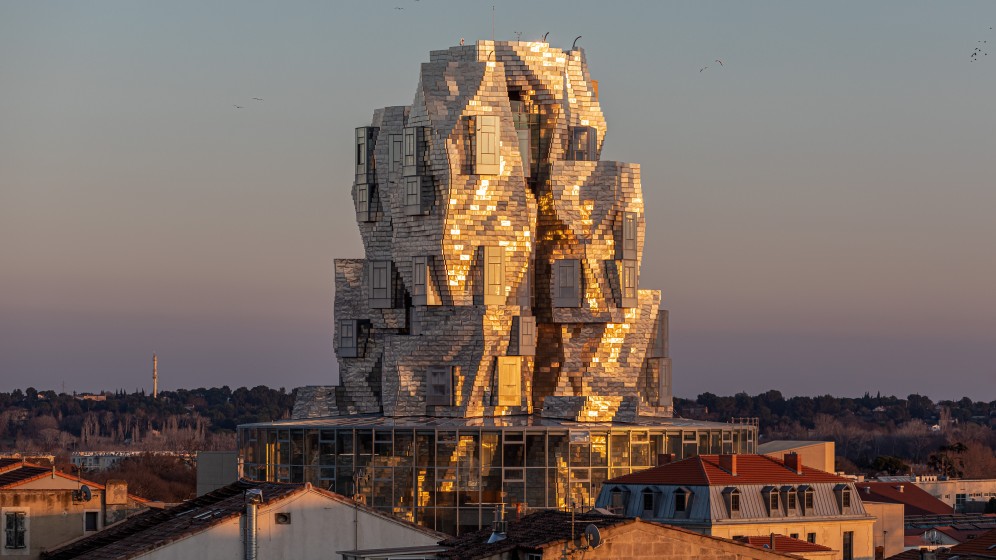 In 2010, the LUMA Foundation, founded by Swiss art patron Maja Hoffmann, acquired an industrial wasteland near the centre of Arles. Eleven years later, the LUMA Arles cultural centre is opened on this site. It consists of a spacious park with studios and artists' accommodation, a hall for large events, a training centre, laboratories and cafés, thus providing a coherent infrastructure for cultural events and exhibitions of all kinds. In the north-eastern part of the park, visible from afar, stands the tower building by the Canadian-American architect Frank Gehry.
Unmistakable signature of the architect
As with many buildings designed by Gehry, it is almost impossible to grasp the structure and internal arrangement of this building at first glance. A 56-metre-high tower rises from a three-storey, drum-shaped glass structure, tapering erratically towards the top. On 10 floors, this tower contains various exhibition and event spaces, a cafeteria and the offices and archives of the LUMA administration.
A photo subject for any time of the day
The tower's façade consists of 53 boxes with mirrored windows and almost 11,000 specially coated aluminium panels. From a distance, they look like a luminous scale armour. Depending on the time of day, they reflect the light in very different moods. In this way, Frank Gehry stages a truly unique spectacle with the famous light of Provence.
Fascinating interior
Inside the light-flooded tower, the eye can also feast on a wealth of carefully selected materials and exciting perspectives. An imposing, multi-winding staircase connects the floors of the glass drum, and anyone who dares can use a slide on the way down. High aesthetics were also a priority in the building technology. The 80 or so toilets in the cultural centre are flushed with Geberit concealed flush technology. Both the attractive Sigma50 brushed chrome steel plates and the touch-free Sigma80 were used for the flush actuation.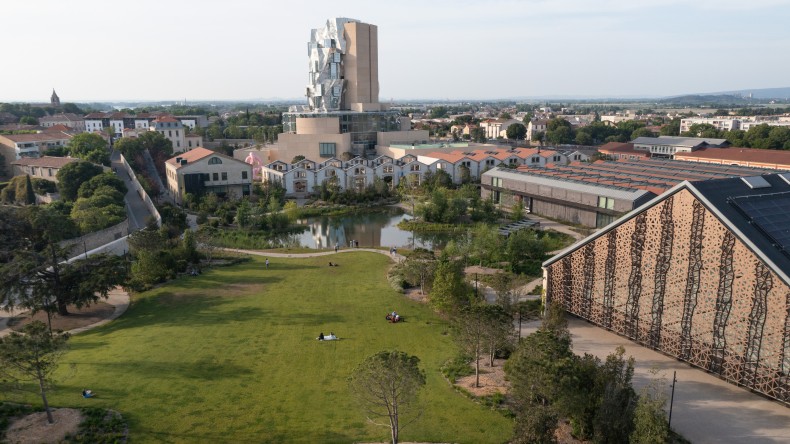 Know-how Installed
The high-quality Geberit Sigma80 actuator plate enables touch-free triggering of the dual flush. The plate is made of glass and activates the lighting of the keys when approached. The flushing characteristics, the colour of the LED light bars and much more can be individually programmed.