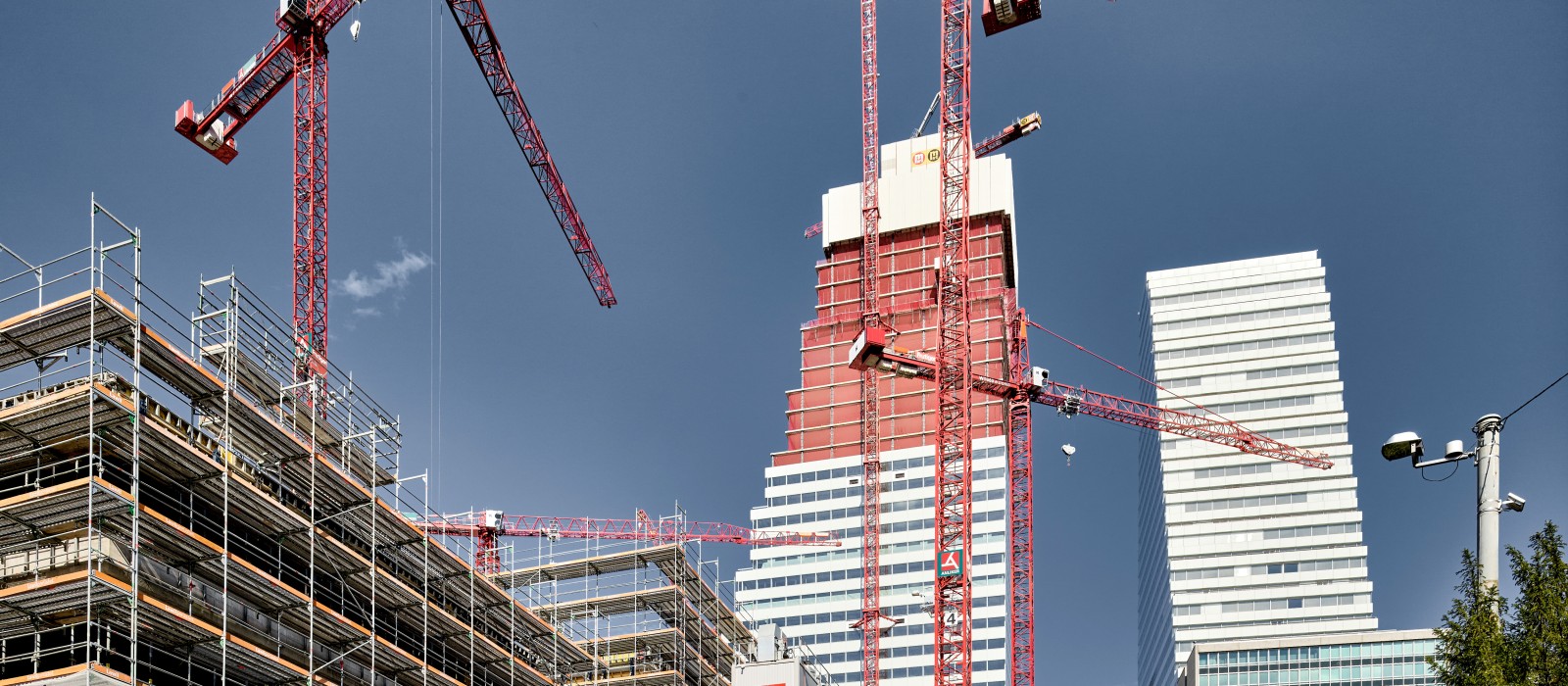 Quiet drainage
Roche Tower 2, Basel (CH)
The pharmaceuticals group Roche is currently building the second of three high-rise office buildings in Basel (CH). With Silent-db20, Geberit is providing a piping system that features outstanding sound-insulating qualities.
The pharmaceutical giant Roche will be moving in to its new offices in the Roche Towers in Basel (CH) at the end of 2021. While the first tower has already been completed, the second has reached its planned height of 205 metres, making it the tallest building in Switzerland at the time of writing. The two striking buildings from Basel-based architects Herzog & de Meuron are already dominating the skyline of the Swiss border city.
Sound-insulating discharge pipes
Among other Geberit products, Silent-db20 discharge pipes are used in Roche Tower 2. The demand for sound-insulating pipes like these is not only increasing in hotels and residential buildings, but also in large office buildings. The special characteristics of the Silent-db20 pipes make them popular, as the increased weight of the pipes and fittings leads to an audible reduction in their sound levels. Isol Flex sound insulation mats are also used in the branch discharge pipes, resulting in an additional reduction of airborne and structure-borne sound.
"Where possible and practical, we had entire pipe sections prefabricated. This means we saved both time and space during installation on the construction site."
Thomas Gantert, project manager, Bouygues E&S InTec Schweiz AG
Installation of the discharge pipes was extremely efficient thanks to the tailored prefabrication of the individual pipe sections. This helped enormously in meeting tight schedules such as those seen at the Roche construction site. Thomas Gantert, project manager at Bouygues E&S InTec Schweiz AG and responsible for the sanitary installations, says retrospectively: "Thanks to prefabricated pipe sections, we saved time and space as many of the processing steps were omitted."
Good service and a satisfied customer
At the construction site, Bouygues E&S InTec Schweiz AG were able to count on the expertise and support of the technical advisors. Here, Geberit took on the clarifications of possible applications for the supply pipes, trained the plumbers on how to use the special pressing tool and issued training certificates.
Demanding sanitary technology for high-rise buildings
Geberit Know-how
Pluvia roof drainage system
Mapress Stainless Steel supply system
Silent-db20 drainage system
PE drainage system
Duofix installation element with Sigma concealed cistern
WC flush control with electronic flush actuation
Know-how Installed
Triple sound insulation
Geberit Silent-db20 pipes and fittings are made of mineral-reinforced PE-S2. This increases their weight and reduces the natural vibration, therefore effectively insulating the sound they generate. Additional sound insulation ribs are installed in the impact zones to reduce the development of noise. Finally, system pipe brackets on the wall and ceiling fasteners decouple the system from the building structure and prevent the transmission of sound.