Employees - November 2023
She is not a fan of boredom
Women in technical professions
As a young woman, Justyna Kwiatkowska-Bącalska was interested in geoinformatics, or GPS. She took a different career path. Today, she leads a team at the ceramics plant in Koło (PL) – the team of GPS engineers.
"I really wanted to work in GPS – and here I am!" Justyna Kwiatkowska-Bącalska laughs out loud. It is a twist of fate that as a student she was enthusiastic about the applications of the Global Positioning System, i.e. geoinformatics, but today she works in a completely different area, which is nevertheless called GPS (Geberit Production System) internally.
Just a stopover
The combination of geography and the technological possibilities of surveying and positioning fascinated Justyna Kwiatkowska-Bącalska so much that she began studying engineering at the Technical University in Wrocław (PL), specializing in mining and geology. After graduating, she looked for work – and initially found nothing in her field. So she took her time searching and took a temporary job at the ceramics plant in Koło in the customer service department. That was in 2013.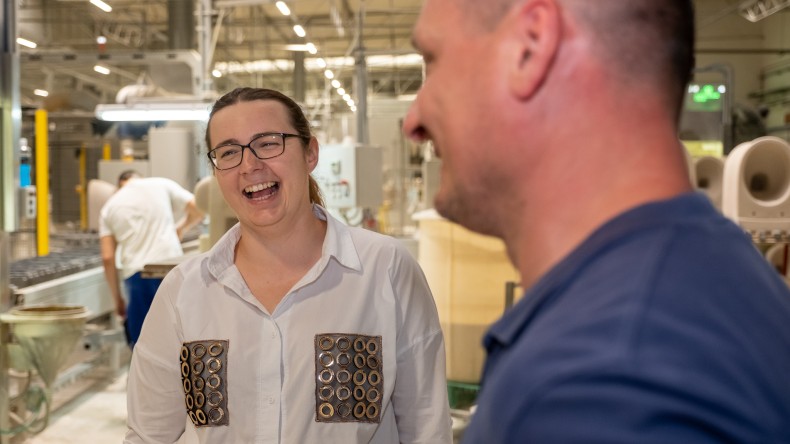 Preferably at the forefront
Two years later, Geberit also took over the Polish ceramics plant as part of the Sanitec acquisition. "From then on, it became very exciting," recalls the now 33-year-old. "A revolution was taking place in production in particular with the introduction of new technologies and processes. And I didn't want to leave."
In 2016, Justyna Kwiatkowska-Bącalska switched to production – as a GPS engineer. She trained in production planning and management on a part-time basis. At this time, the plant began to gradually introduce automated processes and technologies. In 2020, preparations for the installation of pressure casting technology began at the ceramics plant, and the pressure casting machine has been in operation since 2022.

"A revolution was taking place in production. And I didn't want to leave."
Justyna Kwiatkowska-Bącalska, team lead GPS, ceramics plant in Koło (PL)
Interdisciplinary work
Together with her three-person GPS team, Justyna Kwiatkowska-Bącalska was responsible for developing and adapting the work and production processes for this major interdisciplinary project. This is because the switch to pressure casting technology affects a wide range of areas in the plant, from structural measures to new work processes and safety precautions.
The engineer was in her element. "Since then, I've learned an incredible amount about every single area of work every day," she says, visibly happy about her diverse range of tasks. She won't stop smiling for a long time yet: The second pressure casting machine is currently being installed in the ceramics plant.
KNOW-HOW INSTALLED
In traditional ceramic production, the slip is poured into plaster moulds. Up to two hours pass before the slip hardens and the body can be taken out of the mould. In modern pressure casting, porous plastic moulds are filled with slip. Afterwards, the water is extracted from the mass using air pressure. In this way, a lot more pieces can be produced per day. Furthermore, the plastic moulds can be used much longer than plaster moulds. Plastic moulds can also be refilled immediately, which isn't possible when using plaster moulds as they first have to dry for several hours.