Sustainable energy supply
Wind farm "Hohe See", North Sea
With the commissioning of the "Hohe See" wind farm in 2019, the facility with its 71 wind turbines and a transformer platform weighing more than 4000 metric tons sets new standards.
Wind farms in the North Sea and Baltic Sea are playing an increasingly important role in providing a sustainable energy supply for Europe. They benefit from the higher and more constant wind speeds on the open sea and can therefore produce twice as much electricity as comparable facilities on the mainland.
25 Years of continuous operation
The "Hohe See" wind farm will have an output of up to 497 megawatts (MW) and can therefore generate electricity for 560,000 households. The power station will be installed in the North Sea, around 90 km north of the island of Borkum. It comprises 71 wind turbines, each with an output of 7 MW. The electricity generated by the individual turbines will be bundled on the transformer platform, transformed to a higher voltage and transmitted to the mainland via a submarine cable. The entire wind farm is designed to operate continuously and without personnel for at least 25 years.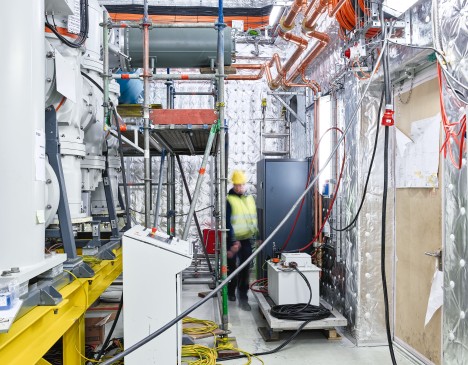 Extreme climatic conditions
Storms, waves, salt water and the distance to the coast place very high demands on the technologies and materials. The platform not only contains state-of-the-art high-voltage transformation technology, it also has numerous systems and units in order to ensure uninterrupted operation in any weather conditions. In addition there is a backup system for all key systems.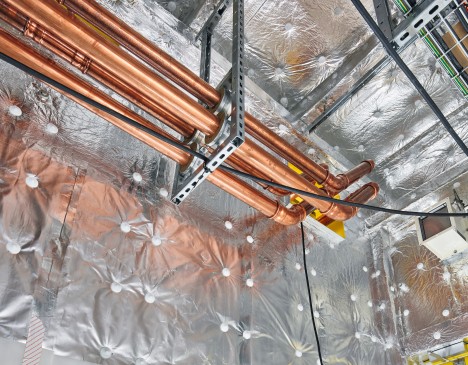 Know-How Installed
The circuit lines are filled with a mixture of water and glycol and include pipes with diameters of up to 108 mm. The pipe system selected for this task is Mapress Copper. The platform is also equipped with several fire-fighting systems, including a sprinkler system. The pipe system used here is Mapress Stainless Steel.