The big wave
Hongdao railway station, Qingdao (CN)
The Hongdao railway station in Qingdao, China, bears the sea on its roof: the aluminium structure is shaped like giant waves. The impressive roofing is drained by Geberit technology.
Two gigantic waves collide, both towering over 60 metres into the sky. Next to them, other smaller waves roar. Standing in front of the new Hongdao railway station, one imagines oneself in the midst of a stormy natural scenery. The dimensions of this unusual construction are more than impressive: the roof consists of 38,000 curved aluminium panels, its surface area corresponds to the size of eleven football pitches.
Geberit defies the waves
The wave roof also contains Geberit technology. The Geberit Pluvia drainage system was installed on the eye-catching roof structure. Around 200 roof water inlets and over 10 kilometres of PE pipes ensure that the roof is drained efficiently and safely even in the event of a strong storm.
City by the sea
The allusion of the roof to a stormy swell was deliberately chosen: The station is located just two kilometres from the seashore, in the city of Qingdao in eastern China. Over the past 100 years, the former fishing village has developed into a prosperous trading and financial centre with a population of around six million.
Junction with a view
The new railway station consists of four above-ground floors and a 50 000 m2 waiting hall. Hongdao is a particularly pleasant place to wait: it is the only high-speed railway station in China with a sea view. On the south side of the station is a viewing platform from which passengers can look out over Jiaozhou Bay.
The main building has been completed, with final environmental works underway. As soon as the station opens, it will connect Qingdao with the Chinese high-speed network. Trains will then roll along the tracks at speeds of up to 300 km/h. In the future, it will take less than three hours to travel from Qingdao to Beijing or Shanghai. The short travel times make train travel attractive. Consequently, Hongdao is to develop into a railway hub: By 2030, planners expect an annual passenger volume of over 20 million.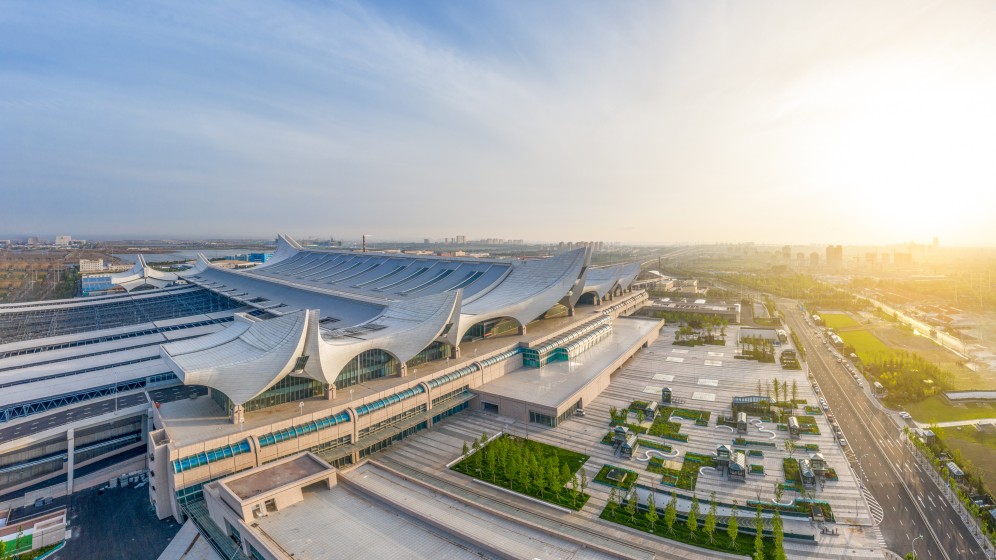 Know-how installed
Geberit Pluvia drains large roofs quickly and reliably. The key here is drainage with negative pressure: the pipelines fill completely and create a closed water column. This way the water is literally sucked off the roof. Compared to other systems, Pluvia requires less material and space. This increases planning flexibility and cost-effectiveness.