The perfect flow
Process optimiser Marius Guffarth in action
Marius Guffarth and his colleagues ensure that Geberit's production and logistics processes run like clockwork.
At Geberit, all production processes conform to the Geberit Production System (GPS). It is based on a number of established process optimisation methods, all of which aim to achieve lean production. Geberit has linked the individual methods in a way that enables an optimum manufacturing process to be achieved – regardless of the production type. It is even possible to apply the concept in all Geberit production plants as well as in the logistics centre in Pfullendorf.
GPS experts, such as Marius Guffarth, support production and logistics with the introduction and further development of the system. Marius Guffarth can also often be found working in the Geberit product plants. Working in production enables him to quickly develop an understanding of the respective processes. Afterwards, he develops new concepts with the team and optimises existing processes. "We begin with some minor optimisations, which soon have a major impact. Afterwards, the production team is highly motivated to carry out further process optimisations," explains Marius Guffarth, summarising his experiences.
"You notice whether a Geberit plant is GPS-optimised or not the moment you enter it."
Marius Guffarth, GPS specialist, Geberit Pfullendorf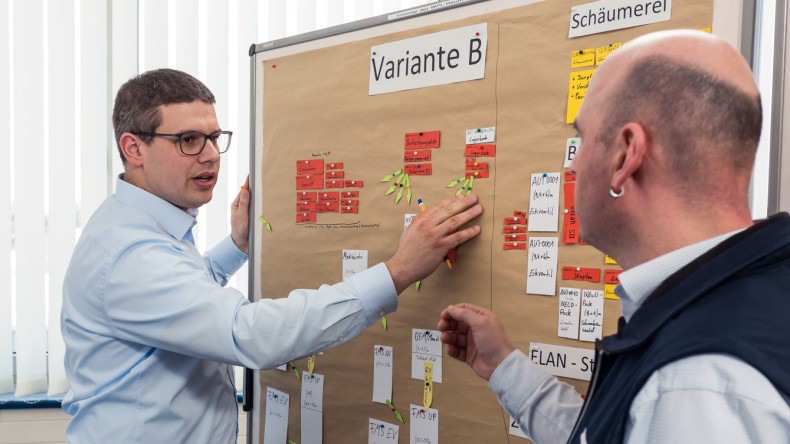 The production system is explicitly designed for Geberit's strategy. Nevertheless, it is very flexible and can be easily adapted to the local circumstances. "In a GPS-optimised plant, the perfectly linked processes ensure that the material is always at the right place at the right time and in the right quantity," explains Marius Guffarth. From the small screws and the cardboard boxes for packaging right through to the transport pallets – everything has its place and is signposted, and the material flow is quickly discernible.