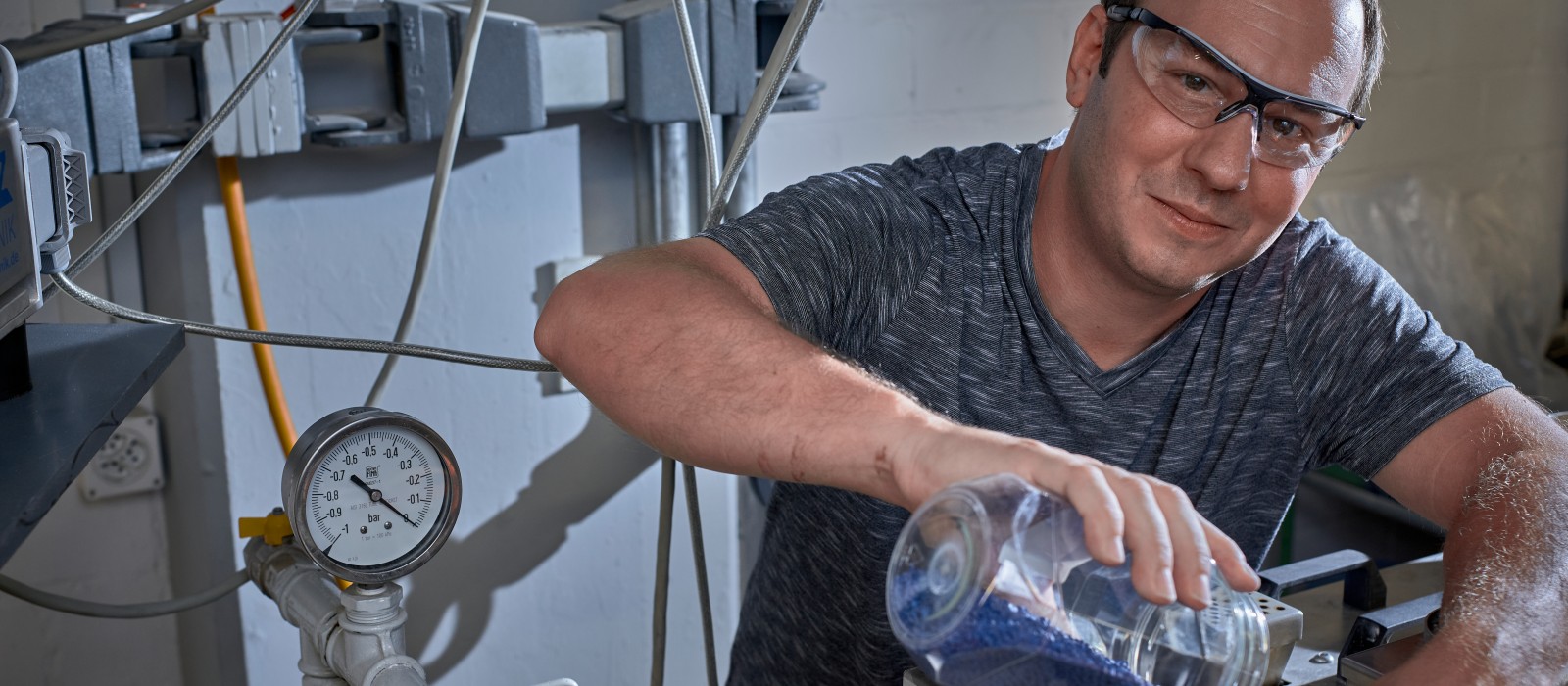 COMPETENCIES - OCTOBER 2020
TRUE COLOURS
FOR MARTIN ROHRER, EVERY NUANCE COUNTS
White alpine is the name of the colour of virtually all ceramic appliances from Geberit. There are also WC seats, cisterns or glass panels in this colour. Colour specialist Martin Rohrer plays a key role in the Materials Laboratory in ensuring that this white alpine is always the same.
Colours have been an important topic at Geberit for a long time now. Right up into the 1990s, exposed cisterns, actuator plates and many other items were available in fashionable colours such as bahama beige, kalahari yellow and manhattan grey, before the clean-looking white alpine began its triumphal march through Europe's bathrooms. An extensive archive of colour samples and formulations, which Martin Rohrer guards like a treasure, bears witness to these "colourful" times. "Every now and again we have to produce a small series of spare parts for a product from this period. Thanks to our collection of samples and formulations, I can provide optimum support to the plastics technologists at the plants. And sometimes I actually end up producing a few hundred kilograms of a granulate mixture in our laboratory myself."
Group-wide colour standards
Martin Rohrer is the man who advises and supports the material technologists in the ceramics and plastic plants when it comes to colour. The same applies to suppliers of intermediate products, such as coated glass or galvanised panels. "With the integration of the ceramics and bathroom furniture business nearly six years ago, my field of activity has been considerably extended," he explains. He arranged for the purchase of a new spectrophotometer for exact colour determination in the Group's central Materials Laboratory. This was because, although all the ceramics plants used such devices, they were from a different manufacturer than the one in the lab in Jona. "There are two leading manufacturers of such measuring instruments in the world. In order to carry out comparable measurements across the Group, we should all work with equipment from the same manufacturer. This is the only way to ensure that the white alpine from the ceramics plant in Gaeta in Italy is identical with that from Bromölla in Sweden," he explains.