Sustainability - November 2018
Under the Moroccan sun
Geberit apprentices in action
During this year's social project, Geberit apprentices installed new toilets with running water at several state schools.
The condition of the sanitary facilities in many schools in rural Morocco is poor. The toilets often don't work properly, if at all. In many cases, there is also nowhere for the schoolchildren to wash their hands. With the support of the Geberit sales organisation in Morocco, several schools where action is urgently needed were identified near Marrakesh.
Complete concentration
Before the eight apprentices travelled to Morocco for two weeks, they got to know each other in the summer of 2018 at a two-day workshop at Geberit's headquarters in Switzerland. In addition to getting acquainted with one another, the workshop was also about acquiring the plumbing skills that each of them would need in order to carry out their assignment on the ground. A few weeks later, the apprentices and their two supervisors landed on Moroccan soil and set about their mission. Despite the high temperatures and long, strenuous days, they had to stay focused on the task at hand. At the end of the two weeks, the pipes had been laid, the Duofix installation systems screwed into place and the installation of the prewalls prepared for the subsequent work.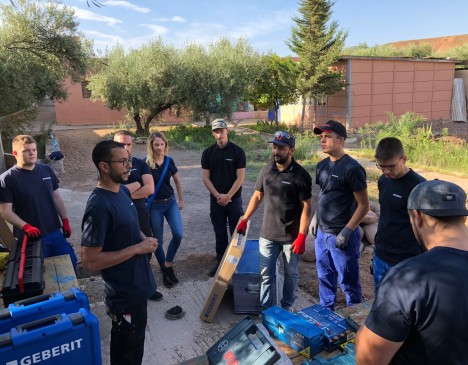 Cultural exchange as part of the assignment
However, social projects are not just about the work on the building site. To get to know the people and the new culture better, several workshops were organised that focused on teaching the schoolchildren about hygiene in a playful manner, among other aspects. The diverse activities also included painting a wall at the school and simply playing together for the pure fun of it.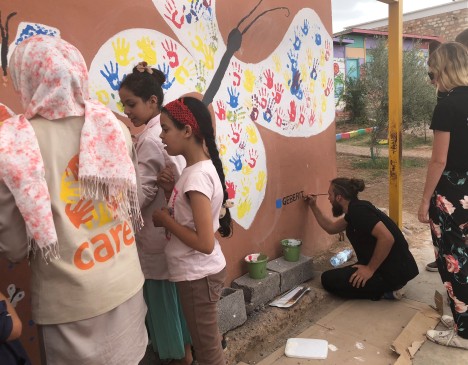 «The social project was an invaluable experience for me and one that confirmed that virtually nobody has it as good as we Europeans have it. What's standard for us would be considered an absolute luxury in other parts of the world.»
Florian Kittler, Apprentice Electronics Technician, Geberit Langenfeld (DE)