21 Containers
Flexible Living in Wertheim
In the German town of Wertheim, a new direction is being taken – with flexible living concepts in recycled shipping containers incorporating Geberit technology.
Since the start of the year, 21 "My Home" apartments are ready and waiting for temporary residents. In this architecturally demanding and sustainable lighthouse project, Wohnen auf Zeit MAX Wertheim GmbH worked together with Containerwerk, who again used the prefabricated bathrooms from Geberit Huter.
21 x comfort
"My Home" is aimed at expats, business travellers or holidaymakers in the Taubertal region who prefer living in their own four walls during the limited time they spend in Wertheim. In this case, the four walls were once found out on the high seas: "My Home" is a collection of 40-foot shipping containers that have been repurposed and fitted out with all kinds of amenities by Containerwerk. A characteristic feature is the floor-to-ceiling window elements on the front side, which give an uninterrupted view of the surrounding area.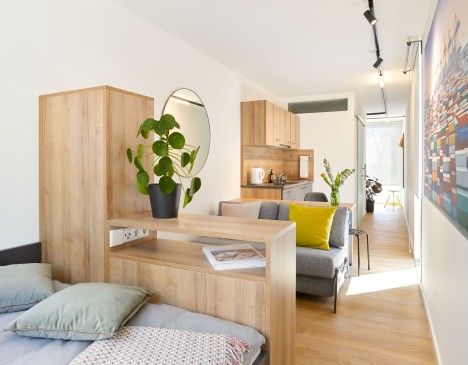 21 x Geberit
Stretching over 26 square metres, each unit offers more than most hotel rooms would – including a fully equipped kitchen unit, private terrace, separate entrance, naturally lit dining and working area for up to four persons and a parking space directly on the doorstep. The prefabricated bathrooms were conceived by Geberit Huter in Matrei am Brenner (AT) as part of a development project and have now been fitted out precisely on schedule. The bathrooms contain Geberit iCon washbasins and cabinets, Xeno2 Rimfree wall-hung WCs, Sigma50 actuator plates and CleanLine60 shower channels.
(Pictures Copyright: Stefan Hohloch)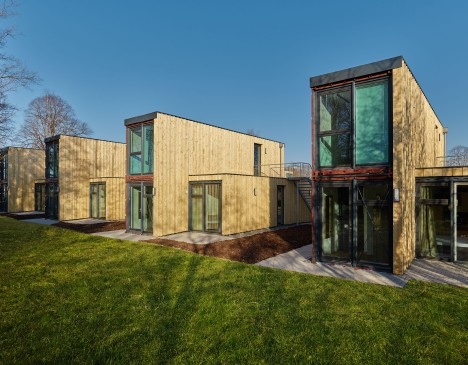 Design meets Function
Straightforward design, clear lines and yet so flexible. This is the Geberit iCon complete bathroom series. An extensive range of ceramic appliances and bathroom furniture in a modern design language offers maximum design freedom and is particularly suitable for small bathrooms and guest toilets.