Dream Job snatched
On the road on behalf of Geberit International Sales AG
International Sales Engineers are often on the move. That doesn't appeal to everyone. But for Remo Hirschi, this aspect makes work all the more exciting as he is able to optimally combine his passion for travel with his sanitary expertise.
"I always wanted to work in an international environment, while combining my passion for travel and work. Geberit International Sales AG (GISA) gave me the opportunity to do this. In 2014 I started working in Rapperswil-Jona (CH) as an International Sales Engineer and earned my spurs in the North Africa region. Luckily, I developed a liking for languages during my school days. My good knowledge of French and my training as a plumber helped me to get my dream job.
As an International Sales Engineer I was responsible for establishing the Geberit brand in North African countries. I flew to the region several times and built up a distribution network with local colleagues, made important contacts with decision-makers and presented our products. An important part of my work was transferring know-how to construction workers, who in some cases were unskilled. I train them in regular seminars, training courses and visits to construction sites and thus show them that Geberit is the clients' partner.
In 2019 I was given the opportunity to change to the Gulf Region for three years. This was an offer I couldn't refuse as an adventure like this doesn't present itself every day. Without further ado, I packed my bags and found myself in the Geberit office in the desert city of Dubai. But the geographical area of my work is much bigger, it covers the entire Gulf Region. Here, I establish important contacts and position Geberit as a quality brand.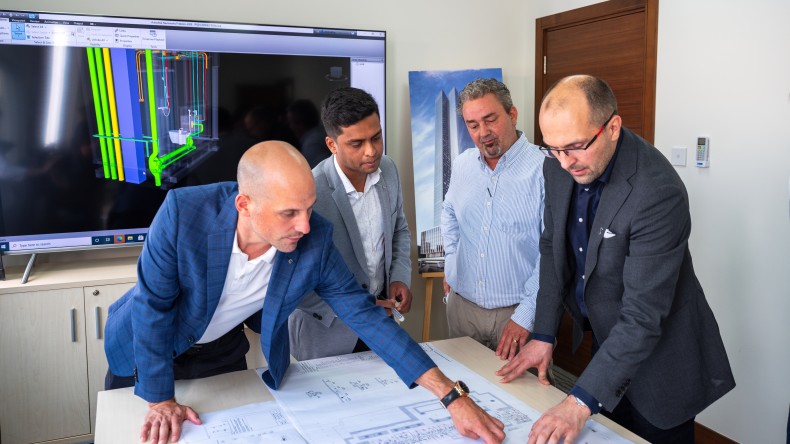 Just recently, my team and I managed to pull off a coup: we were able to implement the first Gulf project with SuperTube - a milestone! Anyone who is familiar with the SuperTube drainage system and has seen it in action can only be a fan. Thanks to its hydraulic optimisation additional ventilation pipes are a thing of the past. Less space is needed for installation, narrower pipe shafts can be designed – all in all a space saver! This actually makes sense.
But in markets in which Geberit is one of many brands, prices are a deciding factor, and a new solution first has to prove itself in comparison with established products. Persuasive efforts are therefore more in demand than ever before. After a series of intensive discussions and a live demonstration it became clear to the client and the building planner that this solution is a technical masterpiece. Because of this we bagged the order. Now it's about implementation. We follow the progress of the construction work on site with great interest and are delighted when the first residents are able to move into their new homes with a view of the famous Burj Khalifa and an absolutely reliable drainage solution.
I can guarantee that at GISA no two days are alike. Work is varied and exciting. Anyone looking for a job that challenges them every day has come to the right place."