References - December 2016
Finnish beauty
Löyly, Helsinki (FI)
In the Finnish capital, an interesting concept featuring a sauna and expansive terraces has added a new dimension to Helsinki's urban landscape.
There are over three million saunas in Finland – an incredible number for a country with just 5.4 million inhabitants. However, the vast majority of them are not open to the public, but instead found in people's homes. An exceptionally atmospheric public counterpoint now adorns the Helsinki coastline in the former industrial area of Hernesaari.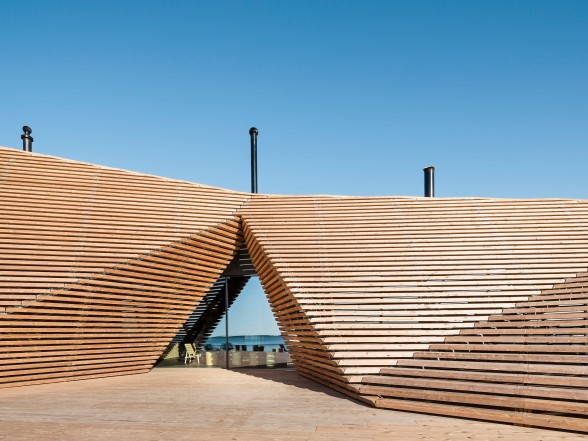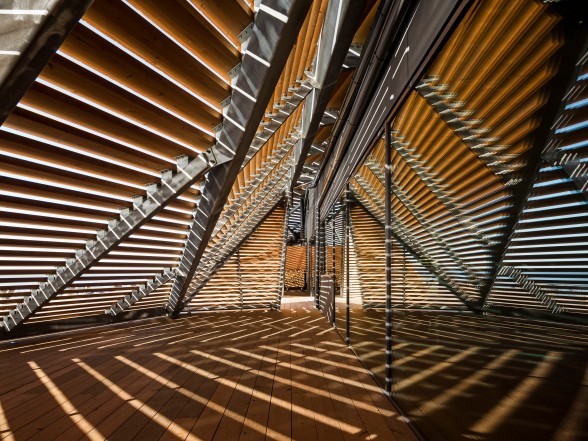 A natural ageing process
The special location right at the water meant that the structure had to be weatherproof. Therefore, black concrete, steel, pine, birch and other durable, hard-wearing materials were used when constructing the sauna. The public sauna's bright wooden shell is still defying the changeable weather conditions. However, the cold and long Nordic winter will soon turn the façade grey, upon which Löyly will become one with its natural surroundings – just as the architecture firm Avanto had envisaged when planning the building.
Incidentally, Löyly owes its unusual name to the steam that forms when water is poured over the hot sauna stones.
On-site support
When it came to the drinking water and heating water pipes, the plumbers opted for the Geberit Mapress supply system, with copper used for the drinking water supply and carbon steel used for the heating. "The advice we received was excellent. Before we started laying the pipes, we were trained by Geberit," explains Ari Jokelainen, a plumber at Uudenmaan LVI-Talo Oy. "We could also count on technical support on site whenever we needed it," he adds with satisfaction.
Geberit Know-how
Due to its robust and hygienic product material characteristics, Geberit Mapress Copper is suitable for drinking water installations. And because it is pressed, elaborate fire protection measures are not needed.