References - September 2020
On the right track
Het Platform, Utrecht (NL)
In Utrecht (NL), a new direction has been taken when it comes to creating living space in the heart of the city. 200 apartments have been built directly above a tram stop in the city centre according to plans from VenhoevenCS.
"Het Platform" is located just around the corner from Utrecht Centraal Bike Parking, which we previously reported on in our View reference magazine  (16 MB). The building was constructed above the tram stop De Uithoflijn on a site measuring just 170 m2, and features an impressive floor area of 4,000 m2.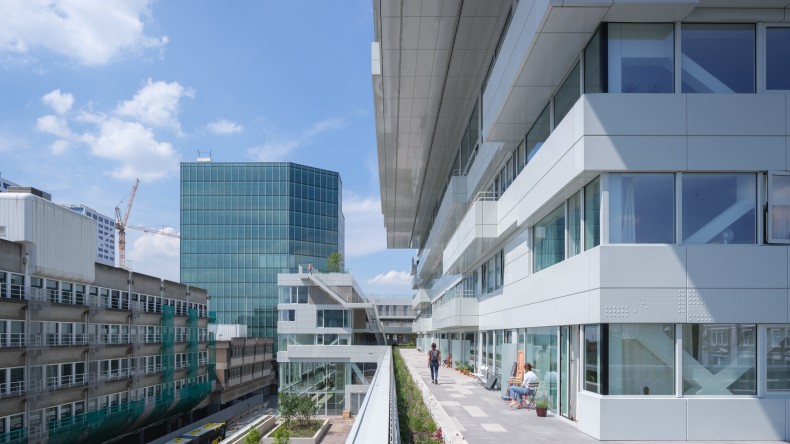 High-density building in the city centre
On several occasions, the experts from VenhoevenCS have already explored how living space can be developed practically in connection with transit zones. This not only brings with it structural issues that need to be resolved, but also logistics issues as well. This was no different at "Het Platform", where space for the intermediate storage of building materials was at a premium. This meant that the work phases and transportation of material had to be planned meticulously.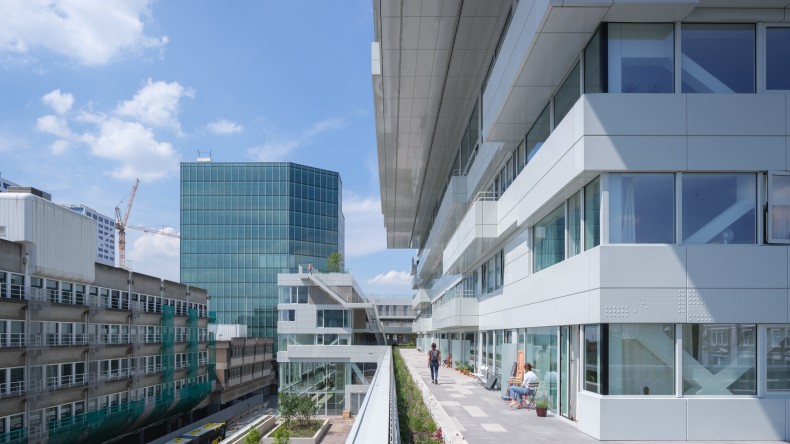 Lightweight construction
The level between the tram stop at ground level and the apartments above is accessible to the public. Here, the architect and sanitary engineers [ÜB1] decided on a lightweight grid of floor-high steel beams with prefabricated concrete floors. The free span of 12 metres between the beams was needed due to the requirements of the trams running beneath and continues in the structures above. According to VenhoevenCS, this design had a positive impact on both building costs and building time.
Geberit is represented in this flagship project in Utrecht with a diverse selection of products. This includes the Duofix installation system, the Pluvia roof drainage system with PE pipes, and the Mapress supply system.
Know-How Installed
Geberit Duofix is the ideal choice when it comes to easy, quick and safe installation on site. The installation system consists of a wide range of all-purpose, self-supporting elements for toilets, urinals, wall drains, washbasins and taps, which can then be expanded into complete, statically load-bearing prewall and partition wall installations by combining them with the corresponding rails and studs.