Competencies - February 2014
The Geberit classic
50 years of concealed cisterns
In 2014 - 50 years after its launch - the Geberit classic behind the wall is still going strong and performing exceptionally well.
While renovating an old building, the plumbers stumble upon an old concealed cistern that had been reliably working behind the wall for some 50 years. And lo and behold – it is still in perfect working condition.

Ahead of its time
The typical 1960s bathroom is a plain, functional room that is used solely for everyday personal hygiene routines. At the time, Geberit is already consistently focusing on quality and innovation. Despite great scepticism among plumbers and the fact that items made of plastic are seen as cheap, Geberit sets about mass-producing concealed cisterns made of PVC.
Persuasive efforts
At the same time, those on the sales front are carrying out the important task of convincing people of the benefits of concealed installation. And this appears to bear fruit. European bathrooms are soon to undergo something of a transformation, with visible supply lines and pipes gradually disappearing behind the wall. Instead of floor-standing toilets, people are increasingly opting for their wall-mounted counterpart. Bathrooms appear more modern, tidier and cleaner. The concealed solution offers sanitary professionals a level of creative freedom that had previously been undreamed of.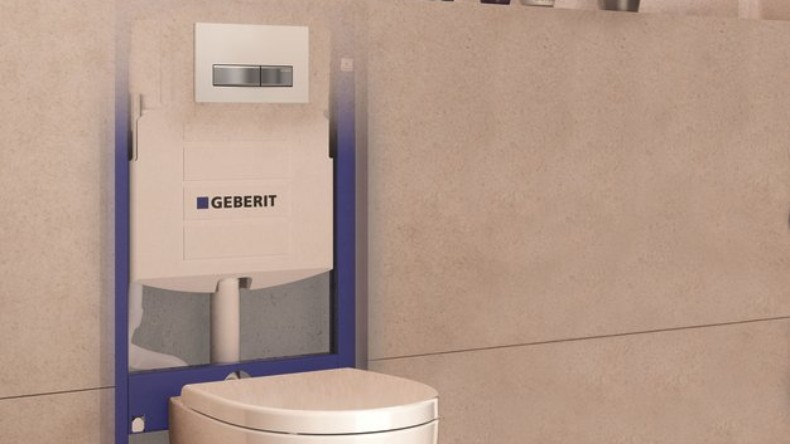 Proven quality
The concealed cistern has stood the test of time right through to the present day. This is also backed up by the sales figures. The fact that over 60 million units have been sold worldwide speaks for itself. The reliability, durability and quality of the plastic cisterns are highly valued. Easy installation with the aid of sophisticated installation systems plus the guaranteed spare parts availability of 25 years also contribute to their popularity.