References - October 2013
Transparent ringed facade
Public Library, Birmingham (UK)
With its roof gardens, glass facades and visible courtyards, Mecanoo designed the Library of Birmingham - opened in 2013 - as a public building.
Despite its voluminous size, the glass structure blends into the urban context in a dominant yet non-oppressive fashion. This is thanks in no small part to the transparent, coloured facade featuring a filigree pattern of decorative steel rings – a design element with which the architect Francine Houben of Mecanoo aims to recall the artisan tradition of this once industrial city.
The largest library in Western Europe
The 35,000-square-metre public library covers an exhaustive array of library and educational uses and even features a community health centre, a roof garden and a studio theatre that seats up to 300 people. It is currently the largest library in Western Europe. Attracting some 10,000 visitors a day, the library is not only a source of knowledge and culture, it also specifically aims to encourage research and innovation in Birmingham.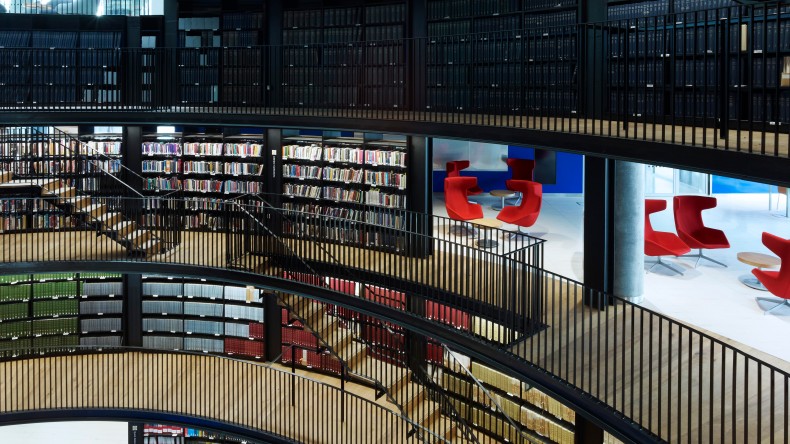 Shakespeare Memorial Room
At the heart of the building is a large book rotunda that conveys the atmosphere of a traditional reading room while also doubling as a passageway and place where visitors split off to other areas. The roof also houses a very special rotunda, which is home to the "Shakespeare Memorial Room".